Delta Zeta Sponsors "Turtle Tug" for Spring Philanthropy
Delta Zeta Sponsors "Turtle Tug" for Spring Philanthropy
03/23/2012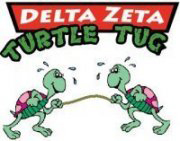 Come join the sisters of the Delta Zeta Sorority in a Turtle Tug Bonanza and help give a child in need a chance to be a kid. All of the money that is raised will go to the Painted Turtle Camp in California. This camp is a place where terminally ill or disabled children can go and have a great time. It is a summer camp that changes lives. Delta Zeta has been one of their biggest supporters for many years and that is only because of the help of the colleges and communities. So come have some fun in the sun with a little Turtle Tug and help a great cause!
The Turtle Tug is Delta Zeta's annual spring philanthropy project. There will be grilled hot dogs, drinks, corn hole, music, and tug-of-war over jello. There will be shirts on sale for $15 each. The $7 admission ticket allows the holder the opportunity to play corn hole, watch the Turtle Tug event, and get one free hot dog and drink. For a $5 ticket, you can come and watch the fun and play a little corn hole. The hot dogs will be grilled fresh and the drinks will be ice cold. The music will be just right and the fun will just flow on in. Anyone who wants to make a fast team can do so for $25 for 5 people.
The Turtle Tug begins at 4:30 p.m. on April 5 at Paul Carpenter Village on the JSU campus.
For more information, please email Rachel Castrenze at rcastrenze@jsu.edu.