| | |
| --- | --- |
| Office of Public Relations | |
Need Help?
Campus Communicators
Find An Expert
Submit News
Campus Events
Goodies
JSU Blogs
Emergency Center
Featured Story
NPR Correspondent, Author David Folkenflik to Deliver Ayers Lecture March 13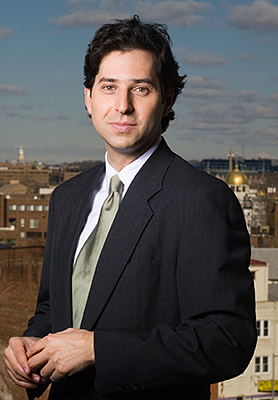 David Folkenflik, an acclaimed media correspondent with National Public Radio (NPR), will be the Ayers Lecture Series speaker at Jacksonville State University on Thursday, March 13, 2014.  He will lecture on the 11th floor of the Houston Cole Library at 1 p.m.  Admission is free and open to the public.
Folkenflik will join an elite group of former speakers, including Pulitzer Prize Winners Rick Bragg, Doug Marlette, Diane McWhorter and Connie Schultz, NPR Foreign Affairs Correspondent Jackie Northam, Anniston Star Chairman and Publisher H. Brandt Ayers, and New York Times Chairman and Publisher Arthur Sulzberger, Jr., to name a few.  The Ayers Lecture series dates back to 1988 and began as a collaboration between the Anniston Star and JSU. It is hosted by the JSU Communication Department.  The event is named in honor of Harry M. and Edel Y. Ayers, past publishers of The Anniston Star.  The Ayers Lecture serves as a tribute to their living story of communication in Northeast Alabama.
Folkenflik is well known for his coverage of a broad array of issues-from the war in Afghanistan, to the financial crisis, to the spellbinding saga of the "Balloon Boy."  He also provides media criticism on the air and at NPR.org.  Reports by Folkenflik, heard on NPR news magazine shows that include All Things Considered the Morning Edition and Talk of the Nation, provide great insight into the operation of the media during a time of momentous shifts in the industry and shed light on people who help change the way the news business operates.
In the recent reports, Folkenflik addressed a new biography that argues Fox News chief Roger Ailes uses the network to divide the nation; how NBC will cover gay issues during the Sochi Olympics; and the use of articles called "native advertising" that are written by people working for news outlets.  He is the author of, Murdoch's World: The Last of the Old Media Empires-about Rupert Murdoch.  Folkenflik uncovered how the corporate owner of GQ sought to conceal distribution of its provocative story about Russian Premier Vladimir Putin and his listeners were the first to hear of it.  With the ongoing sexual abuse scandal in the Catholic Church, NPR listeners found out how a small, liberal Catholic weekly newspaper in Kansas City had been documenting allegations of abuse by priests for ten years.
Folkenflik spent more than a decade at the Baltimore Sun before joining NPR in 2004, where he covered higher education, Congress and the media.  He began his career at the Durham (N.C.) Herald-Sun.  Folkenflik graduated with a bachelor's degree in history from Cornell University, where he was editor-in-chief of The Cornell Daily Sun.
Folkenflik is a three-time recipient of the Arthur Rowse Awards for Press Criticism from the National Press Club.  He won the inaugural 2002 Mongerson Award for Investigative Reporting on the News.  His work has also been recognized with top honors from the National Headliners Club and the Society of Professional Journalists.  He was the first to receive the Irik Sevin Visiting Fellow at Cornell and speaks frequently at colleges across the country.  He has served as a media analyst on television programs such as CNN'S Reliable Sources, ABC News' Nightline, Fox News' O'Reilly Factor and MSNBC's Countdown with Keith Olbermann.
Photo: David Folkenflik (courtesy)
Recent Stories
Internationally Known Composer John Mackey to Bring "Frozen Cathedral" to JSU
03/11/14
The Koyukon call Alaska's Mount McKinley "Denali," meaning "the great one." To internationally known composer John Mackey, the tallest mountain on land in the world is the inspiration for "The Frozen Cathedral," his composition that focuses on the transcendental and spiritual allure of this magnificent peak. Mackey will be on campus nex
Finalists for JSU Physical Plant Director Position to Present Today, Thursday
03/11/14
The applicant pool for Director of JSU's Physical Plant has been narrowed to the top two candidates and each candidate will make a presentation to the campus community.
JSU Releases 2012-2013 Annual Report
03/10/14
Jacksonville State University recently released the 2012-2013 annual report, "Jacksonville State University 2012-2013- A Learning Centered University." Read the report online here.
March 17 Foothills Piano Festival to Feature ETA-3 Performing Debussy, Mozart and Bartok
03/10/14
Named after a luminous and spectacular star-forming Nebula in our galaxy, ETA3 is a woodwind trio comprising award winning musicians, American Flutist Chelsea Knox, Japanese Pianist Tomoko Nakayama and Russian Clarinetist Alexey Gorokholinsky.
Student Alabama Education Association Announces Monthly Meetings for March-May
03/10/14
SAEA is a student-directed, faculty-sponsored, pre-service professional organization for students who are enrolled in, or who are interested in enrolling in, the teacher education program.
Read more news
In the News
Ayers Lecture Series bringing NPR reporter to town
Anniston Star, March 9, 2014
Many people enjoy daylight saving time, but for some people it is difficult
Anniston Star, March 9, 2014
Artists in Action- Stars align for two musical performances at JSU
Anniston Star, March 9, 2014
Remembering a legend- Whorton's legacy not just an ad salesman
Marietta Daily Journal, March 6, 2014
JSU hopes to train coaches, parents to help players avoid injury
The Anniston Star, March 3, 2014
State officials hold cycling summit in Huntsville
The Anniston Star, March 1, 2014
Divas, drama and dance- 'Kiss Me Kate' puts comedic twist on Shakespeare's 'Shrew';
Anniston Star, Feb. 16, 2014
JSU recognized for commitment to trees
Anniston Star, Feb. 9, 2014
Double-reed instruments, and those who play them, show what they are made of at JSU event
Anniston Star, Feb. 8, 2014