Meehan Memories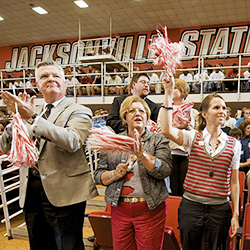 "It has been my pleasure to serve as provost for almost 15 years, during Dr. Meehan's presidency. While his announcement to retire surprised me, I certainly wish him the best as he embarks on that adventure next year. I will miss working with him." 
– Dr. Rebecca O. Turner, Provost and Vice President for Academic and Student Affairs
"Dr. Meehan has always been sensitive to the needs and concerns of the student body and that is something that isn't easy to find when you look at schools across the nation. I am just thankful for the time and leadership that President Meehan has given to JSU so far. His legacy is with the thousands of Gamecocks that have graduated in his time at JSU. On behalf of the SGA and the student body, we thank Dr. Meehan for his service over the years to our students and university and we wish him a happy and blessed retirement." 
- Brett A. Johnson, SGA President for 2014-2015
"As chairman of the Calhoun County Chamber of Commerce in 2007, Bill Meehan was integral in leading the chamber forward, building business. He brought the organization and community excitement and passion. As a well-respected leader the community admires, everyone wanted to play a part in this great organization, under his leadership." 
- Linda Hearn, Manager of the Calhoun County Chamber of Commerce
"Dr. Bill Meehan has been a great president and, more than that, he has epitomized JSU's reputation as the Friendliest Campus in the South. Our association goes back many years and there have been too many memories to pick and describe. I guess my general gratitude is that he has never failed to 'be there' for us in the community - from helping us pursue a dream, to joining us in dealing with our problems, to listening to our complaints with sincere concern, to laughing with us as we exchange pleasantries. On behalf of my wife Becky and myself, we thank you for your service and we wish you and Beth and the entire family all the best in the future." 
- Glen Browder, former Alabama and U.S. Representative and former Alabama Secretary of State
"Dr. Meehan has done a great job as president of Jacksonville State University. He has worked hard to provide a good atmosphere for students, faculty and staff at JSU. Dr. Meehan's efforts did not end on campus.  He was always concerned with the welfare of the entire community. I am happy that I was able to enjoy a good working relationship with President Meehan. Because of the good open relationship between the university and the city, a number of good things happened that might not ever have materialized."
- Johnny L. Smith, Mayor of Jacksonville
"It has truly been a pleasure working with a university president who, regardless of the obvious challenges he faces each and every day, has continued to have the most positive attitude combined with leading the most positive change in the university's history. He also has the opportunity to retire at the pinnacle of his success and impact for the university. Few leaders have that distinction. 'Well done our good and faithful servant'!" 
- Gregory D. Brown, President of the JSU Foundation Board
"Dr. Meehan has been a dedicated servant leader at Jacksonville State University and I will miss him dearly. It is my hope that his retirement is replete with longevity and serenity." 
- Darren Douthitt, Superintendent of Anniston City Schools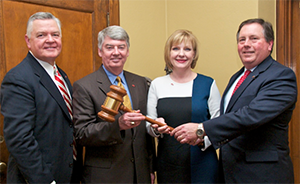 "He rose to the highest position you can achieve at Jacksonville State University, as president, and he did it without ever closing his door, without ever forgetting his friends and fraternity brothers. In fact, the higher he rose, the closer he wanted his friends. I am proud to have had the privilege to call Bill Meehan, 'classmate,' 'fraternity brother,' 'president,' but most of all, 'friend.' "
– Don Braxton Martin ('71), classmate and fraternity brother