Canyon Center News
JSU Canyon Center to Remain Closed
FORT PAYNE, AL. As a sign of the times and with significant regret, the Jacksonville State University Canyon Center will remain closed until its deemed safe to reopen.
After being one of the first public facilities in Alabama to close its doors to prevent the spread of Covid-19, the Canyon Center closed its doors and gates to the public on March 14th. The National Park Service staff has continued to work with a limited number of JSU staff on site. However, the facility is closed to the public until further notice.
Due to these cautionary actions all building rentals are also cancelled including corporate meetings, proms and private events.
From the staff at JSU and the Canyon Center, we sincerely hope that you are safe, socially distanced and as healthy as possible. We hope to resume normal operations as soon as possible.
If there are any questions regarding the operation of the Canyon Center, feel free to call 256-845-3548 or text 256-282-5784.
Pete Conroy, Director
Bluegrass on the Rim Goes Virtual
Take the boredom out of your stay at home time by watching the 7th annual Bluegrass on the Rim show Saturday, June 13th - virtually!
Brought to you by the Jacksonville State University Canyon Center and thanks to some brilliant musicians, JSU is excited to announce performances from renowned Nashville recording artist Megan Mullins as well as the top bluegrass bands Foggy Hollow Revue and Valley Road.
"Nothing is better than to sit under a summer sky, with family and friends, near the river and with bluegrass in the air," said Canyon Center Director Pete Conroy. "Since that's not happening, we lined up some VIRTUAL Grass. With our truly awesome talent, high definition video, multi-channel recording, and some funny stuff, we hope it will be the next best thing to being there!"
Due to the possibility of infection, a live show at the Canyon Center isn't possible. Notably, this year's concert will be dedicated to front line workers, first responders and all of those impacted by Covid-19.
"We hope that folks will take the time to relax and sit down behind their favorite screens for some good old fashion summer fun," said event Master of Ceremony Glen Williams. "Bluegrass on the Rim is a great tradition and I'm so glad it won't be lost in 2020" he said.
You can experience the VIRTUAL Grass via the Canyon Center Facebook page @littlerivercanyoncenter beginning at 5:00 pm on Saturday, June 13th. The show is free but a donation link will be made available. Viewing will be available on demand, so listen at your leisure anytime, enjoy and don't forget to share the show!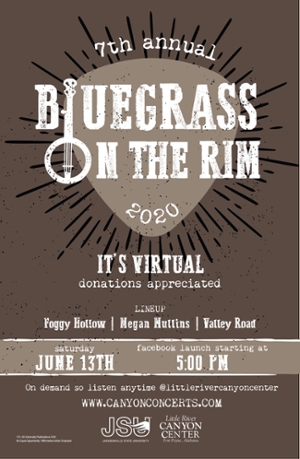 Campus Location: 
Virtual Event
Event Type: 
Performance, Special Event
Audience: 
Alumni, Faculty, Staff, Public, Student
Sponsor: 
Little River Canyon Center
Learn More About This Event on Facebook