Canyon Center News
News & Events from Jacksonville State University's Little River Canyon Center
An Update from the Director...
Thanks to everyone who came out and supported the 8th annual Bluegrass on the Rim concert. It was a nice success estimating nearly 300 in attendance. We are planning many more concerts so let us know what YOU would like to see on the Canyon Center stage in the future.  
The Canyon Center remains open Tues-Sat 10 am until 4 pm. We are still working with limited staff and volunteers so please let us know if you would be interested in volunteering at the Canyon Center. From the front desk to trail work and from education to research, we might have a rewarding job or project for you.  
Summer and fall programs are in full swing so be sure to check what's coming up at the Canyon Center below. Also, mark your calendars for the Canyon Half Marathon October 9th and Canyon Fest on November 6th. More programs, classes and activities are coming soon. 
Wishing everyone a safe and happy holiday weekend!
Little River Canyon Center
Bluegrass on the Rim 2021
July 6: Junior Naturalist
July 7: Naturalist Hike for Kids
July 12: Junior Adventurer
July 27: Junior Naturalist
July 28: Naturalist Hike for Kids
July 31: Traditional Chair Weaving Workshop
For more info or to register for a program
Follow us on Facebook to experience more classes, adventures & events
The Canyon Half Marathon is Back!
Saturday, October 9, 2021

We are planning the 9th Annual Canyon Half Marathon and it's set for October 9, 2021 at 8 am. One of the most scenic and challenging certified half marathon courses in the country. Registration coming soon to 

active.com

!
Canyon Fest: A Celebration of Art and Nature
Canyon Fest Sat. Nov. 6th

Canyon Fest is an annual celebration of arts and nature that features live animal programs, music, art, food and fun for the entire family. We hope you will join us the first Saturday in November for the festivities. We encourage and welcome new artists to apply for the event! Apply now using the link below.
1-day class, with an optional second day

Where: 

JSU's Little River Canyon Center-Fort Payne, Alabama

Fee:

 $150 supply fee. 

Pre-registration required by July 17th 

by emailing Brittney Hughes (NOT via Facebook).

For details and to pre-register email Southernchick888@hotmail.com

Traditional Chair Weaving Workshop July 31

The craft of chair seat weaving and chair caning has been practiced for centuries and is still a viable craft today, experienced all over the world. Only a few common tools are necessary to repair chair seats, making this a craft that nearly anyone can master with just a little patience and tenacity. Participants will discover how to weave a simple chair bottom, while learning the herringbone pattern using flat reed. Small ladderback chairs will be provided, as well as all tools & supplies. For ages 12 years and up.
The Shop at Little River Canyon
Now Open Tues-Sat | 10 am - 4 pm
Shop local & support environmental education

The Shop at Little River Canyon features a wide variety of unique, eco-friendly and USA made merchandise, many exclusive to the Canyon Center!

25%

 off Reversible Dog Bandanas

40% 

off Fairy Garden Boxes & Accessories

25% 

off Blue Planet Polarized Sunglasses
The Canyon Center is currently open Tues - Sat 10 am - 4 pm. Please be patient as we will be operating under limited hours and capacity. Masks are appreciated!
JSU Canyon Center to Remain Closed
March 2020 FORT PAYNE, AL. As a sign of the times and with significant regret, the Jacksonville State University Canyon Center will remain closed until its deemed safe to reopen.
After being one of the first public facilities in Alabama to close its doors to prevent the spread of Covid-19, the Canyon Center closed its doors and gates to the public on March 14th. The National Park Service staff has continued to work with a limited number of JSU staff on site. However, the facility is closed to the public until further notice.
Due to these cautionary actions all building rentals are also cancelled including corporate meetings, proms and private events.
From the staff at JSU and the Canyon Center, we sincerely hope that you are safe, socially distanced and as healthy as possible. We hope to resume normal operations as soon as possible.
If there are any questions regarding the operation of the Canyon Center, feel free to call 256-845-3548 or text 256-282-5784.
Pete Conroy, Director
Bluegrass on the Rim Goes Virtual
Take the boredom out of your stay at home time by watching the 7th annual Bluegrass on the Rim show Saturday, June 13th - virtually!
Brought to you by the Jacksonville State University Canyon Center and thanks to some brilliant musicians, JSU is excited to announce performances from renowned Nashville recording artist Megan Mullins as well as the top bluegrass bands Foggy Hollow Revue and Valley Road.
"Nothing is better than to sit under a summer sky, with family and friends, near the river and with bluegrass in the air," said Canyon Center Director Pete Conroy. "Since that's not happening, we lined up some VIRTUAL Grass. With our truly awesome talent, high definition video, multi-channel recording, and some funny stuff, we hope it will be the next best thing to being there!"
Due to the possibility of infection, a live show at the Canyon Center isn't possible. Notably, this year's concert will be dedicated to front line workers, first responders and all of those impacted by Covid-19.
"We hope that folks will take the time to relax and sit down behind their favorite screens for some good old fashion summer fun," said event Master of Ceremony Glen Williams. "Bluegrass on the Rim is a great tradition and I'm so glad it won't be lost in 2020" he said.
You can experience the VIRTUAL Grass via the Canyon Center Facebook page @littlerivercanyoncenter beginning at 5:00 pm on Saturday, June 13th. The show is free but a donation link will be made available. Viewing will be available on demand, so listen at your leisure anytime, enjoy and don't forget to share the show!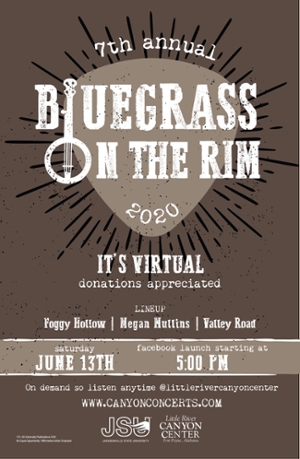 Campus Location: 
Virtual Event
Event Type: 
Performance, Special Event
Audience: 
Alumni, Faculty, Staff, Public, Student
Sponsor: 
Little River Canyon Center
Learn More About This Event on Facebook