News
TAD of Jazz Live in Concert at Little River Canyon Center February 22nd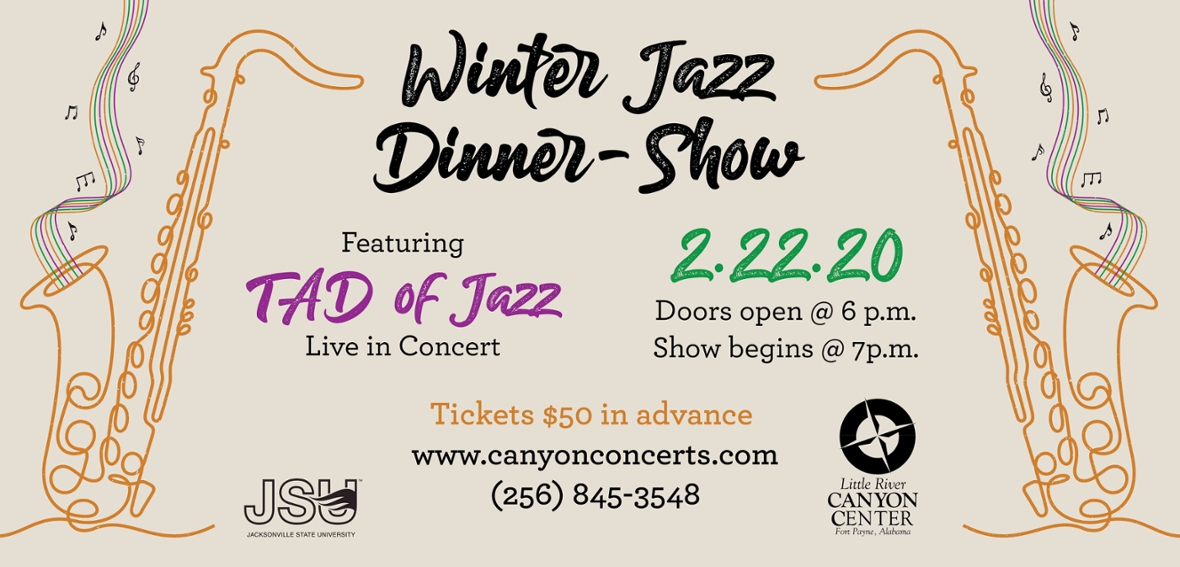 Jazz enthusiasts & foodies alike are sure to enjoy this exclusive jazz dinner-show.
–Jacksonville State University's Little River Canyon Center is gearing up for the 5 th annual winter jazz show. This year's concert is set for Saturday, February 22, 2020 beginning at 7:00 pm featuring TAD of Jazz from Anniston, Alabama. Performing a wide variety of contemporary and traditional jazz styles, TAD of Jazz is sure to please.
This year's event will feature a New Orleans style cuisine prepared by Sweet T's Events & Catering. The menu will include jazzy jambalaya to start, boudin stuffed pork loin, red beans and rice, cajun corn maque choux and bread pudding with praline sauce to top it all off. "We are excited to have Anniston's TAD of Jazz back for another music-filled evening of outstanding jazz," says Director Pete Conroy. "No matter what style of jazz you enjoy, TAD of Jazz has something for everyone, performed with jaw-dropping, technical proficiency." "We expect a sell-out event again this year, so make your reservations early," says Sales & Services Manager, Anna Lindsey. She continued, "We encourage guests to let us know if they have any special needs so we can ensure everyone is as comfortable as possible."
Advanced tickets are available online, onsite (at the Canyon Center Gift Shop), or by calling (256) 845- 7213. Online tickets are $50 in advance for adults and $35 for students with a valid student ID. Reserved tables available for parties of 8 or more for $350. Please make your reservations by Wednesday, February 19, 2020. For more info visit www.canyonconcerts.com Doors open at 6:00 pm and the show begins at 7:00 pm. Admission includes both a meal and entertainment. Seating is first come first serve, so guests are encouraged to arrive early. Coolers are welcome.
Buy your tickets today at www.canyonconcerts.com
For more info on the band click here
For more info about the venue visit www.canyoncenter.org or call (256) 845-3548