News and Announcements
EM Graduate Student received the prestigious American Indian Graduate Centers (AIGC) Fellowship

June 6, 2017, JACKSONVILLE, AL -  Dante Halleck, a graduate student in his last semester of the Masters in Emergency Management program, has been awarded the American Indian Graduate Centers Fellowship (AIGC). According to their website, the AIGC Fellowship program provides approximately $1,200,000 in fellowships to over 400 American Indian and Alaska Native graduate and professional students each year.  Graduate fellowships are monetary awards made to American Indian and Alaska Native graduate or professional full-time, degree-seeking students, who meet all eligibility criteria. AIGC partners with Tribes, the federal government, foundations, corporations, and individuals to ensure the growth and sustainability of scholarships. Their vision is built upon a 50-year legacy, and  AIGC will continue to be the premier national resource in funding and empowering the next generation of Native leaders across all sectors, by meeting the unmet need of every Native American student.

Quote:
"I am very fortunate and grateful to have received this fellowship. Working on Tribal issues as they relate to Emergency Management was one of the main focuses for applying to the graduate program at Jacksonville State University (JSU). I am in my last semester, and this fellowship certainly helps with the completion of the graduate degree. Currently, I am an Emergency Manager and Safety Officer with the Indian Health Service located in Shiprock, N.M. Being able to apply what I have learned at JSU has really helped me develop the EM program as a whole. While it may take time to bring the concepts of EM to Indian Country, I am confident I can support these efforts. Thank you to JSU and AIGC for their support during this process."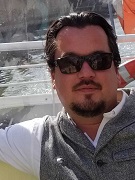 Dante Halleck
Osage Nation
Wa-Sa-Ta (First Son of the Eagle Clan)
EM Faculty chosen as a Detailee to the U.S. Senate Homeland Security and Governmental Affairs Committee

March 3, 2017, JACKSONVILLE, AL -  Dr. Natalie Fussell, an adjunct instructor in the Department of Emergency Management, has been chosen as a Detailee to the U.S. Senate Homeland Security and Governmental Affairs Committee (Majority Staff). Dr. Fussell was chosen because of her strong subject matter expertise in emergency management. She will spend the year working on FEMA related issues and legislative remedies to the various FEMA challenges identified by the Government Accountability Office and the DHS Inspector General. Dr. Fussell is a subject matter expert in the legal aspects of emergency management and teaches this subject as an elective in JSU's EM degree programs.