Access to Electronic Resources for Remote/Off-Campus Computers
If you are currently enrolled in classes at Jacksonville State University, you can access the library's databases from your home computer. Access is granted through an authentication application called EZproxy. It is very easy to use, and it allows our users to access our databases from any browser (Netscape or Internet Explorer) or service provider (AOL, Mindspring, etc.). When you select any of our electronic resources, databases or journal links in the catalog, the sign in screen below will appear.
THIS IS A SAMPLE IMAGE OF THE SIGN IN SCREEN. IT CANNOT BE USED TO ACCESS THE DATABASES.

When you're prompted for a student/staff ID and your last name, type in your student/staff number (all numbers, no dashes, no spaces) and your last name. For example:
Student/Staff ID: 123456789
Last Name: smith
Click the "Submit" button and you're in!
Once you have been authenticated, you can begin searching the resource. You can search any database you'd like from the library's web site. Go to the library home page, click on "Resources," then click on "Databases by Subject" or "Databases by Title" to select a database. Or you can search the library catalog for a specific journal title.
It's not letting me in. What do I do now?
Sometimes people follow the instructions for signing in, yet still can't get into the databases. There are a number of reasons why this happens. Any librarian will gladly assist you, but you can help them determine what's wrong by asking yourself the following questions first:
Am I registered or pre-registered?
Registered students may access the electronic databases during the semester or session that their classes meet. Pre-registering will not grant you early access to the databases.
Am I using a networked computer?
School or office computers are often connected to a larger network of computers through a server. These computers may have a firewall established. You need to contact your computer services personnel to determine if this is the problem.
Did I type in my Student/Staff ID and Last Name correctly?
If you typed your student/staff ID and/or last name incorrectly, you will receive an error message stating that it is incorrect or not in our database (see below). Try typing in the student/staff ID and last name again, just in case there was a typing error. If you are not an authorized user, JSU student, faculty, or staff, you will not be allowed access. If you are an authorized user, but continue to get this error message, please contact the Library at (256) 782-8034 to report the problem.
THIS IS A SAMPLE IMAGE OF THE SIGN IN ERROR SCREEN. IT CANNOT BE USED TO ACCESS THE DATABASES.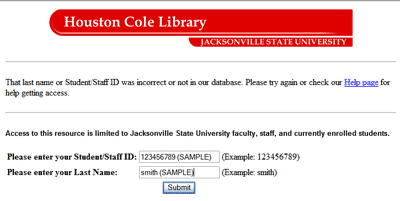 If you still have problems, contact our Reference Desk at (256) 782-8034 or one of our Librarians.
Revised 10/17/01: J. Poe
---
Helpful Links:
Journal Search
Remote Access Help
Interlibrary Loan
Emergency Access
Databases to Review