Continuing Education and Outreach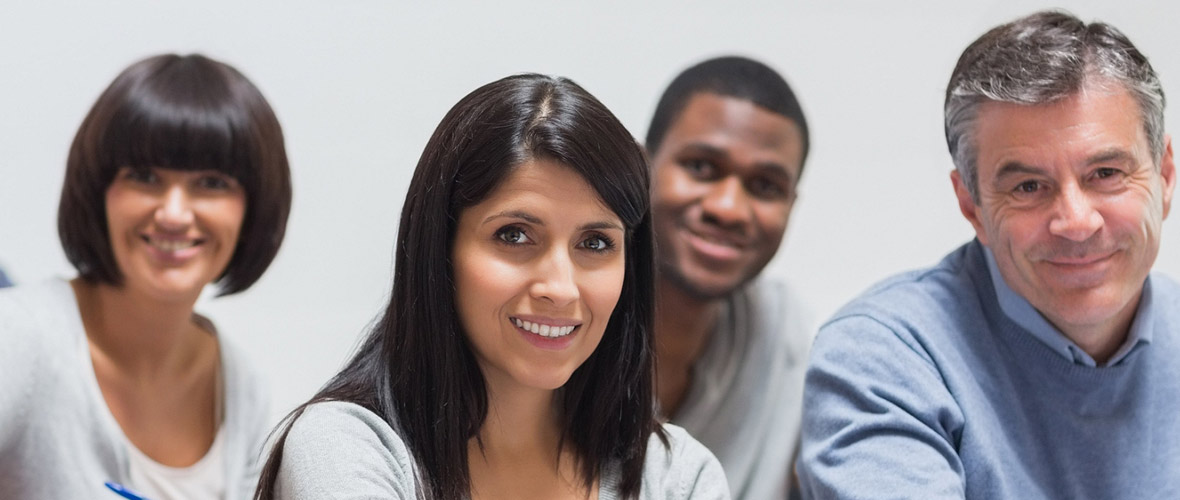 Expanding possibilities, strengthening communities.
Now, more than ever, we are focused on the safety of our students and staff. For 2021 we are ready with an updated class selection and delivery options to meet your lifelong learning needs. Whether you choose to attend class at McClellan Center or from a remote location, we are dedicated to providing accessible and innovative training, personal service, and a safe learning environment.
If you have questions about attending class at McClellan vs. remote, or whether a course has been canceled or rescheduled, please contact us during regular business hours at (256) 782-5918.
Please stay safe, and we appreciate your patience!
---
We offer non-credit courses for entry-level, professional career advancement, and customized training for businesses or groups of 12 or more. New classes are always being added, so visit us often. If you have questions, call (256) 782-5918 or contact us by email.
Featured Courses
American Heart Association
Basic Life Support (BLS) For The Healthcare Provider
The BLS Course is created for healthcare professionals and others who perform CPR and other basic cardiovascular life support skills in in-facility and pre-hospital settings. You will learn how to promptly recognize life-threatening emergencies, give high-quality chest compressions, deliver appropriate ventilations and early use of an AED.  LEARN MORE ➜


Customer Service
Knowing how to give exceptional customer service is one of the keys to growing and sustaining a business. And no matter the size of team, everyone must be on the same page to deliver a first-rate customer experience. In this course we'll take a look at the do's and don'ts of great customer service and show you how to provide it.  REGISTER TODAY ➜

Critical Thinking
Critical thinking is about asking the right questions, evaluating information methodically, and avoiding errors in logic. This course teaches the fundamental skills every decision-maker should understand and be able to apply. You will learn how to analyze and gathering good data, evaluate information to gain better insight and become a more rational and disiplined thinker.  CONTINUE READING ➔

How To Register
Step 1 - Choose your class
Select the catalog link in the left-hand navigation bar to view our Course Catalog. Next, select a category to browse classes by type, or click "View All" to open a list of all available courses. Hovering your mouse over a course title will bring up an overview. Clicking on the title will provide you with complete details and a link for registration.
Step 2 - Register
Online: Add your selected class(es) to your cart and follow the instructions to complete the online registration process.
Phone: Call (256) 782-5918 or (800) 634-7199 with the course name(s), number(s), and additional information requested on the course Course Registration Form. Credit card payment only.
Fax: Download and complete the course Course Registration Form and fax it along with your credit card information or business purchase order to (256) 782-5983.
Email: Download and complete the Course Registration Form and email it to ConEd.Help@jsu.edu.
DO NOT email your credit card information - please include a phone number that we can use to contact you for payment.
Snail Mail: Download and complete the course Course Registration Form and mail it along with your credit card information, check, or business purchase order to:
Continuing Education & Outreach
100 Gamecock Drive
Anniston, AL 36205
In-Person: Visit our offices on the first floor of McClellan Center, M-F, between 8:00 am - 4:30 pm.*
*Onsite staffing may be limited due to COVID 19. Please call (256) 782-5918 or (800) 634-7199 to  confirm an appointment.
Note
: A completed
Parental Consent Form
is required for all registrants under 19 years old.
Step 3 - Attend your class
Attend your class(es) in person, or access your online class(es) with the user name, password, and login instructions you received at registration.
Third-party Billing
Sponsoring agencies or organizations must complete an Authorization for Payment Form before third-party billing can be processed.*
*We invite businesses and other organizations to set up an account. A Purchase Order is required for enrollment.