Loren Girmen, Phi Alpha Theta President, sorts shoe boxes for Guatemalan kids in 2006.
For the fifth consecutive year, Phi Alpha Theta and the History Club are collecting Christmas shoe boxes for impoverished children in Guatemala. Last year, 325 boxes were gathered along with one thousand dollars in contributions.  The organizations hope to match or exceed last year's record and invite the entire JSU family to participate.
The first step in assembling a box is to decide the gender and age of the child you would like to support.  Generally the groups are categorized in age groups of 5-9, 10-13, and 14-16. The following items are recommended for the boxes:
Toys: small cars, balls, dolls, jacks, stuffed animals, kazoos, harmonicas, yo-yos, small etch a sketch, slinky, etc.


School Supplies: pens, pencils & sharpeners, stamps and ink pad sets, solar calculators, colored pencils, chalk, crayons, coloring books, writing pads, etc.


Hygiene products: toothbrush, toothpaste, soap, comb, washcloth, etc. Other: sunglasses, ball caps, socks, underwear, costume jewelry, hair clips, small picture books.


Please do not include the following: used items, toy guns, knives or other toy weapons, perishable foods, medicines of any kind and breakable items (china and glass).
The boxes may be gift wrapped, but the top must be wrapped separately so the box can be inspected by Guatemalan customs officials.
Monetary  contributions to this program are also welcome and can be made by check to "Friends of the Children."
Boxes can be delivered to the History and Foreign Languages Department in Stone Center and will be collected through December 14.  For additional information contact George Lauderbaugh at 782-8044 or by e-mail at glauderb@jsu.edu.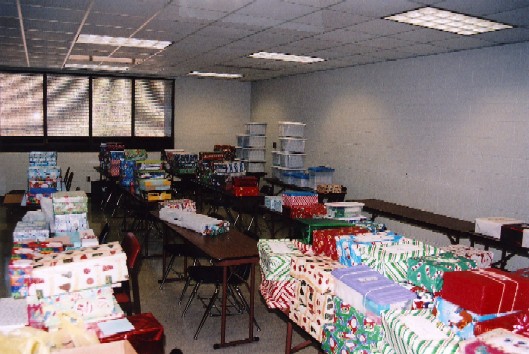 Shoe boxes collected at Stone Center in 2006.

Photo Feature Archives
---
Submit items for news releases by using the request form at http://www.jsu.edu/news/requestform.html.