An updated version of PRISM is now available to everyone on campus.  Unit profiles using 2006-2007 reports are now available to any on-campus user by going to http://ir.jsu.edu/prism .  
For designated PRISM users, the same link is available for 2008-2009 planning, due December 15, 2007.  To access the edit screens, please login using previously assigned user id and password.  Goals and objectives will now appear on the same page, with access to objective details available with one click.  You will find that goals and objectives from 2007-2008 were rolled over to 2008-2009 for your convenience. Please carefully consider your 2008-2009 plan by reviewing the PRISM Planning and Reporting Guidelines below to ensure you've fully completed the process.
If you have questions or need assistance please contact the Office of Institutional Research and Assessment at ext. 8144.
Thank you for your commitment to continuous improvement at JSU.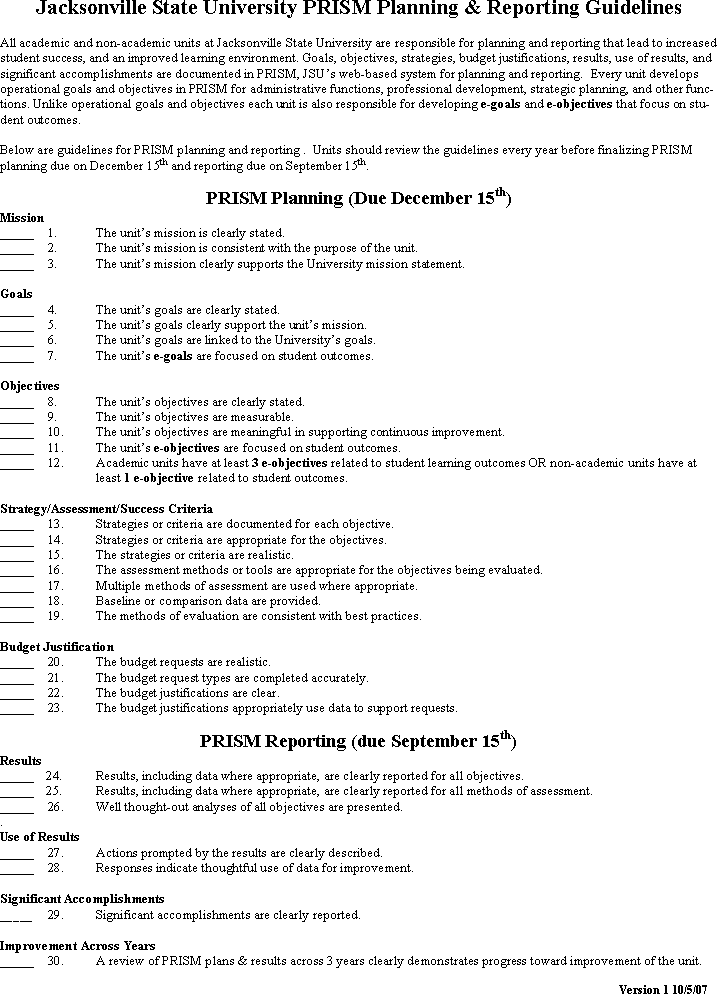 Alicia Simmons, Ph.D.
Director
Institutional Research and Assessment
Jacksonville State University
700 Pelham Road North
Jacksonville, AL  36265
256-782-8145
256-782-8146 (fax)