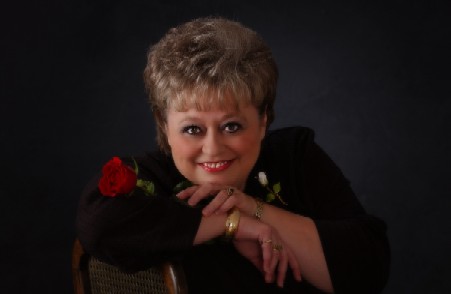 Debby Jones will sing and sign her book, A Rose Among the Ashes, at Goodbook Christian Store on Saturday, July 28, from 11:00 a.m. - 1:00 p.m. Goodbook is located at 80 Ali Way in Oxford (located across from Quintard Mall and behind Logan's Roadhouse).


Jacksonville State University staff member Debby Jones, Center for Economic Development, has published a book entitled A Rose Among the Ashes.

In A Rose Among the Ashes Debby recounts her touching, true story and unveils a virtual roadmap for grief recovery in the Lord. Starting at the "hearth of the heart," then examining the "pile of ashes" within it, she illustrates the process of confronting loss head-on and of moving ahead through tearfulness, showing you how to make right choices at each step of the journey forward.

"It is sometimes difficult to accept that blessings can be found amidst life's trials," explains the author. "I wanted to encourage others and provide a blueprint for finding those blessings, even within the wreckage of our broken plans. So often, God has something special for us, even when we can't imagine a bright outcome," says Jones.

Readers are invited to envision a "rose garden in the ruins" and to pick from among the rubble a hidden blessing a loving Lord has, surprisingly, tucked within it.

"Only a rose of God could exist in a pile of ashes," the author says, "and therein is the miracle: There's always a rose inside…somewhere."

In other chapters, Jones' poignant personal stories show how to prepare for the trials and losses of life, where God meets us in the ashes and in the roses. This Piedmont, Alabama, church soloist and enthusiastic speaker inspires readers to use faith as a compass to find their own roses—and tells what to do with the ashes.

God helps Debby deal with her overwhelming loss and tells her to look for His "roses" amidst the ashes of a life "gone up in smoke."

"It can be a daunting task to search for a bright spot when your plans have 'gone up in smoke,'" Jones states frankly, admitting to the full range of emotions she endured.

Yet obedience to wait on God produced surprising peace—and, eventually, a manuscript! Slowly she began to perceive her Creator's ability to birth a new season from the ash heap of what had been. Devotional and inspiring, checklists help the reader to relate this Christian grief guide to his or her own refining fires.

"I enjoy meeting people and helping others," says Jones, a soloist and choir member at the Northside Baptist Church. She has taught Sunday School, directed the youth choir, and served on the youth council. Debby is an extrovert and former high school award-winning public speaker. She is also an avid reader, enjoys listening to Southern gospel music, and taking long drives in the country to relish God's creation.

To order A Rose Among the Ashes call 1-877-421-READ (7323) or visit www.pleasantwordbooks.com or your local bookstore. For interviews or more information call Abigail Davidson at 360.802.9758, WINEPRESS PUBLISHING GROUP - 1730 Railroad St. Enumclaw, WA. 98022 • 360.802.9758 tel • 360.802.9992 fax.

Description of Event: Debby Jones' Book Signing at Goodbook Christian Store Date of Event : 07/28/07 Time of Event : 11:00 AM Location of Event : Goodbook Christian Store, Oxford Admission Charge : 0 Chief Point of Request : booksigning Who will be interviewed : Background/Bio material : Person at JSU to contact : Debby Jones
---
Submit items for news releases by using the request form at www.jsu.edu/newswire/request

.