By Erin Chupp
News Bureau
Dr. Debra Goodwin, assistant professor of nutrition in Jacksonville State University's Department of Family and Consumer Sciences, has been named head of the department.
Dr. Goodwin received her B.S. in administrative dietetics from JSU and her M.A.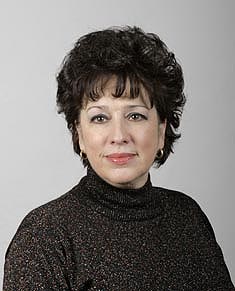 Dr. Debra Goodwin
in allied health education and Ph. D. in health education and health promotion from the University of Alabama. She and her husband Philip live in Cropwell, Ala., on Logan Martin Lake.
Growing up on a farm in Albertville, Dr. Goodwin became enamored by the idea of one day attending JSU. She said reading her rural town's local paper, The Sand Mountain Reporter, which always printed articles and photos about JSU students, sparked her interest in the university. After completing two years at Snead State Junior College, she transferred to JSU.
Although she was leaning toward the field of home economics as a major, Dr. Goodwin became hooked on dietetics after having heard Dr. Elizabeth Sowell, a former JSU nutrition professor, speak passionately about the subject. Dr. Sowell also helped her new student get a part-time job at Regional Medical Center in Anniston while she completed the program at JSU.
Dr. Goodwin obtained her master's degree and worked at the University of Alabama in Birmingham as a renal dietitian for about three years when she was asked to join the Department of Family and Consumer Sciences at JSU. Having little classroom experience at this time, Dr. Goodwin credits much of her learning and newly found love of teaching to Dr. Virginia Yocum, whose shoes she now fills as department head.
"I came back to teach at JSU because of my love for the university, my love of its people, and my love of my subject area," says Dr. Goodwin. "Coming from the stimulating environment of UAB, I felt that I could help further the careers of future dietitians."
Dr. Goodwin is the director of the Didactic Program in Dietetics, an accredited program of the American Dietetic Association. This year, the program is celebrating its 40th anniversary. Dr. Goodwin became the director in 1997 after Dr. Sowell's retirement.
Thanks to help from JSU, Dr. Goodwin returned to the University of Alabama in Tuscaloosa to work on her doctorate in her late forties and obtained this goal at age 51. "I think the moral of my story is that setting a goal and following up with hard work really does pay off," says Dr. Goodwin. "Plus, you are never too old to realize your dreams."
Dr. Goodwin is a member of several professional organizations, including the American Dietetic Association, the American Association of Family and Consumer Sciences and the National Association for the Study of Obesity.
"In my opinion," says Dr. Goodwin, "one of the major health concerns in America today is the obesity epidemic." A recent article published in the British Medical Journal suggests that the first three years of a person's life lays the groundwork for obesity. "Health professionals obviously need to start very early in one's life to interrupt the obesity cycle and I believe that parents and young children should be the major targets of child nutrition education."
After first reading about JSU and then eventually filling the shoes of the mentors she worked under at JSU, Dr. Goodwin has fulfilled many of her life's goals. "My life is intertwined with JSU. I dreamed about coming to JSU as a small girl and then was fortunate to be able to attend and graduate from JSU, and now I am in a leadership role at my alma mater," says Dr. Goodwin. " Dreams really do come true."
Dr. Goodwin also enjoys traveling and camping with her husband. She plays the piano and occasionally dabbles at the banjo. Although cooking is a favorite pastime for her, Dr. Goodwin admits that her husband is a much better cook.
Dr. Goodwin's teaching areas include clinical nutrition, lifecycle nutrition, advanced nutrition and food preparation. Research interests of Dr. Goodwin include women's health, adolescent nutrition and the development of healthy recipes.
One of the recipes she has used in the department for years is a recipe for a healthier batch of chicken salad:
DR. DEBRA'S CHICKEN SALAD
1/2 cup chopped celery
1/2 cup sliced seedless red grapes
1/2 cup chopped apple
1/2 cup chopped pecans
1/2 cup light mayonnaise
1/2 cup low-fat sour cream
1 teaspoon garlic salt
1 can low-fat chicken broth
1 can water 4 to 5 skinless, boneless chicken breasts
Cook chicken breasts in chicken broth and water over medium heat until tender. Drain and chop chicken breasts and add remaining ingredients. Refrigerate for several hours or overnight.