JSU Family Member Needs Your Help
Dear JSU Family,
As many of you know, our colleague Mike Hathcock in TV Services has experienced serious illnesses in his family. You may not know Mike by name, but surely you would recognize his voice because he announces students as they receive their JSU diplomas at graduation.
-- Last year Debbie, his wife, had surgeries for kidney cancer
-- Just a few months later, their 22 year old son, Eric was diagnosed with Hodgkin's lymphoma
-- Eric has been receiving chemotherapy at UAB
-- The first week of October, Eric developed an aggressive, life threatening infection in his leg. To save his life and contain the infection Eric's leg was amputated at the thigh
-- Eric was on the ventilator for over a week, but has stabilized, is now off the ventilator and is in another ICU awaiting bone marrow transplant
-- Eric is not insured and Mike's out-of-pocket expenses continue to mount. He and Debbie are staying at the UAB Townhouses at a cost of $50 per day, $250 per week, or $750 per month.
As a tangible gesture of support, we have developed an initiative to pay for his lodging. The immediate goal is to provide at least one month's lodging. Gary Brittain, Baptist Campus Ministries, has graciously agreed to manage donations. If you would like to make a contribution, please mail your check, payable to Baptist Campus Ministries (indicate Hathcock Family on the memo line), to:
Gary Brittain
Baptist Campus Ministries
PO Box 151
Jacksonville, AL 36265

Gary will forward the monies to the UAB Townhouse. Should the donations exceed the expense of lodging, the balance will be given to Mike for other expenses. Managing donations in this manner provides fully transparent accounting. If you feel it is appropriate, please feel free to share this request with your church, synagogue, or mosque.
Mike and his family so appreciate the many prayers that have been offered on their behalf. Thank you for your generous spirit.
FCS Hosts Fall Leadership Conference Wed., Oct. 18

Jacksonville State University's Department of Family and Consumer Sciences is hosting the annual Alabama Family and Consumer Sciences Fall Leadership Conference on Wednesday, October 18. It is held each year on the campus of the current state president of the student chapter of the AAFCS. This year, the president is Sonya Jones, a JSU FCS major with a concentration in Dietetics. The day will start with registration and a continental breakfast in our department from 9:00-9:30. The conference will move to the Gamecock Center for the program at 10:00.
Scholarship Created In Memory of Alethea Nixon
By Erin Chupp
News Bureau
A new scholarship is being created at Jacksonville State University in memory of 17-year-old Alethea Nixon, who died July 26 while volunteering for the Asbury Volunteer Fire Department. Ms. Nixon died when a tanker truck she was riding in enroute to a fire went off a bridge. In honor of her dedication, willingness to volunteer, and interest in fire fighting, the JSU Marshall County Alumni chapter created a scholarship.
This scholarship will be given to a JSU student who has graduated from a Marshall County High School or to a student transferring into JSU from Snead State Community College. This student must be a junior or senior in good academic standing, majoring in Emergency Preparedness and showing a need for financial assistance.
Dr. William A. Meehan, president of JSU, has generously agreed to match any contributions made to the Alethea Nixon Scholarship Fund. The scholarship will be awarded until the funds are depleted, unless the contributions total $25,000. If it reaches $25,000, the scholarship will be endowed and remain in perpetuity in Alethea's honor.
"We would like to express our most sincere gratitude to our local community as well as all of the fire departments and firefighters across our county, our state and this great country of ours, and across the world for all of the thoughts, prayers, cards, donations and the outpouring of support," said a spokesperson for the Asbury Volunteer Fire Department.
"Words cannot express how grateful we are to have such a wonderful community to support us and a brotherhood and sisterhood of firefighters from across the world to help us and the families make it through this difficult time."
Please consider a gift to support the Marshall County Alumni Chapter for the Alethea Nixon Scholarship Fund. Gifts may be given online at www.JSU.edu by clicking on "Make a Gift," or may be sent to:
JSU Foundation, Inc.
700 Pelham Road North
Jacksonville, Alabama 36265
Erin Chupp Joins News Bureau as Staff Writer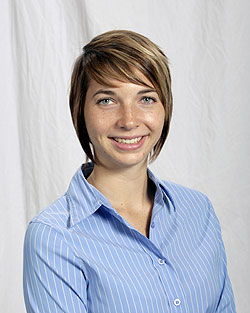 Erin Chupp
The Jacksonville State University News Bureau welcomes Erin Chupp of Marietta, Ga. as staff writer and photographer. Erin is a graduate student seeking her master's in secondary education.
She received her B.A. degree from JSU in communication, along with a minor in French, in 2005.

While completing her undergraduate degree, Erin worked her way from photographer to staff writer to features editor for the student-run newspaper, The Chanticleer. She participated in the A Capella choir one year and Marching Southerners all four years, holding a position on the leadership staff for the last two. After marching season ended in the fall, Erin captained the women's ultimate Frisbee team at JSU in the spring, traveling to tournaments in several surrounding states.
Starting her graduate degree this fall, Erin continues to perform with the Southerners. "The Southerners are what brought me to, and kept me, at JSU," said Erin. "I don't know of another group on campus in which you share a lasting relationship with nearly 400 friends that you get to hang out with every day."
During her year away from Jacksonville after graduation, Erin began her career as a freelance writer and photographer. She moved from Jacksonville's southern drawl of hospitality and fried food to the south of France, where she worked hospitalité in a hotel serving up Mediterranean dishes.
Keeping up with her writing and photos while overseas, Erin is now published in France and the United States. She looks forward to continue building her portfolio while working at JSU.
"I'm excited to continue writing about the happenings of Jacksonville State," said Erin. "I'm also sure to learn from the years of experience here and progress professionally."
Faculty Access Opens Oct. 19, Mid-Term Grades Due Oct. 26
Jacksonville State University's Faculty Access opens Oct. 19, and Fall mid-term grades are due by 1:00 p.m. Oct. 26. For courses with no mid-term grades, please e-mail confirmation to graderpt@jsu.edu .