By Erin Chupp
News Bureau
Recipients of Jacksonville State University's 2006 Alumni Awards, which will be presented during halftime of the Homecoming football game on Saturday, Oct. 21, are as follows.
Leah Fay (Bumpious) Junkins, Alumna of the Year Junkins, a native of Anniston, graduated from JSU with a B.S. in marketing and a minor in finance in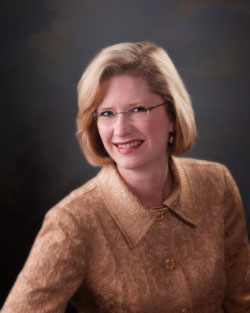 1985. Upon graduating, she married Jimmy W. Junkins and began working for Baldwin County Savings and Loan later that same year. She worked for Altus Bank in Mobile from 1986-1992 before settling into her current career at Colonial Bank in Foley, Alabama. Graduating from Retail Banking School at the University of Wisconsin in 2005, Junkins is now the president and CEO for Retail Banking over Alabama and Georgia. She has devoted time to various Chambers of Commerce and organizations such as Relay for Life, the American Cancer Society, Rotary Club, Lion's Club and is currently an active member of the Foley Optimist Club. In her spare time she enjoys traveling, boating and spending time with her family; she has two stepchildren and two stepgrandchildren.
E.G. "Kel" Kelley, Jr., LUTCF, Alumnus of the Year Kelley, of Huntsville,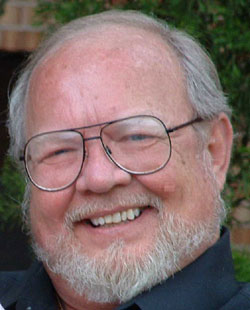 graduated from JSU with a B.S. in music education in 1970. He is a member of the Grey Echelon (Marching Southerners Alumni), Phi Mu Alpha (international professional music fraternity) and Scabbard & Blad (U.S. military fraternity). Kelley taught choir, music theory, assisted the band and was the sports and band announcer at South Cobb High School for four years. He then went on to work as an agent for Prudential for 23 years, during which he began Kelley & Associates Insurance Brokerage firm in 1977. Kelley's fifteen years of heart health issues, from heart attacks to quadruple bypass surgery to a heart transplant, led him to found three heart transplant groups. In 2002, Kelley began Project Valentine, partnering with JSU to collect and distribute cell phones to those waiting for an organ transplant. Kelley is a very active member in his community and has received numerous awards. While writing a book, composing Christian music and serving the Douglas County Jail chapel through music, he is currently the vice president of one of his heart transplant support groups, TripleHeart, Inc. He and his wife Joanne live in Douglasville, Georgia, with their three children, Kimberly, Patrick and Tommy, and four grandchildren.
Dr. Rodney N. Friery, Outstanding JSU Faculty Member of the Year Dr. Friery, of Jacksonville, is a professor of sociology at JSU and has been with the university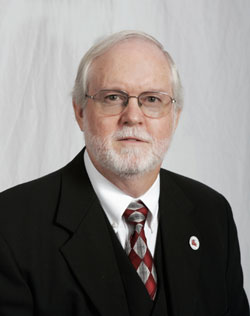 since 1974. He earned his A.A. from San Jacinto College, a B.S. and a M.Ed. from Sam Houston State University and his Ph.D. in sociology from Mississippi State University. He served as head of the Department of Sociology for eleven years and founded the Eta Chapter of Alpha Kappa Delta, an international sociology academic honor society. Friery has served JSU and its community through numerous positions, such as faculty advisor for the Baptist Campus Ministry, chairperson of the Jacksonville High School Baseball Field Project, academic advisor for the men's basketball program, treasurer of the Calhoun County Sports Hall of Fame and chairperson of the Rights and Protection Committee for the Learning Tree. He has presented numerous papers and has several articles and chapters published in professional journals and books. Before coming to JSU, Dr. Friery taught mathematics for two years in the public school system. He and his wife, Dr. Kathleen Friery, who serves as the head of Educational Resources for the College of Education and Professional Studies, have two children and one granddaughter.
Christopher D. Glover, Young Alumnus of the Year Glover, of Birmingham,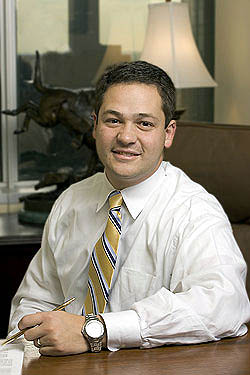 received a B.S. in political science from JSU in 1998. At JSU, he served as president of the Student Government Association, a representative of the Interfraternity Counsel, and treasurer of Delta Chi. His tenure with the SGA was marked by the decision for a food court and renovation to the Theron Montgomery Building. Glover went on to graduate from Cumberland School of Law in Birmingham, where he served on the Cumberland ATLA National Trial Team, Cumberland National Client Counseling Team, Trial Advocacy Board and Christian Legal Society. He was president of the Cumberland Trial Lawyers Association and vice president of Phi Alpha Delta Legal Society. He now resides in Shelby County with his wife and JSU graduate, Erin, daughter Kaitlyn, and son Andrew. Glover practices law with the firm of Hollis & Wright, P.C., focusing on protecting the rights of consumers in civil litigation throughout the United States.
The Military Alumnus Award went to twin brothers, Tim and Mark Sullivan:
Lieutenant Colonel Tim Sullivan, Military Alumnus of the Year Lt. Col. Sullivan, native of Huntsville, graduated from JSU in 1988 with a B.S. in Forensic Science and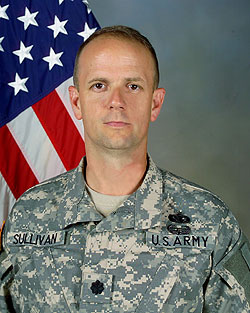 also received a master's degree in Information Systems Management from Florida Institute of Technology. He has served in Operation Desert Shield and Desert Storm, Operation Joint Endeavor and Operation Iraqi Freedom in Iraq and Kuwait. Sullivan's military service with the army has included unit assignments at Fort Bragg, NC, Camp Humphrey's Korea, Arsenal, AL, and Patrick Air Force Base, FL. Recognized with numerous medals and awards, including the Bronze Star Medal, Lt. Col. Sullivan is currently in command of the 13th Corps Support Battalion, Fort Benning, GA. He and his wife Shannon have three daughters, Caitlin, Hannah and Mary Grace.
Lieutenant Colonel Mark Sullivan, Military Alumnus of the Year Lt. Col. Sullivan, native of Huntsville and brother to the other military award recipient, graduated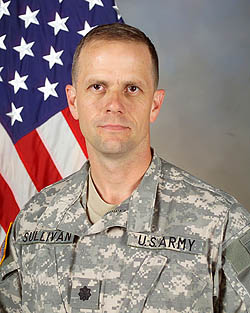 with a B.S. in Marketing from JSU in 1988 before obtaining his master's in General Administration from Central Michigan University. His previous unit assignments were at Fort Benning, GA, Fort Bragg, NC, and Camp Casey, Korea. His army service includes Operations Desert Shield/Storm, Operation Iraqi Freedom I, and Operation Iraqi Freedom III (Camp Liberty and Baghdad). Also receiving the Bronze Star Medal, among many other medals and awards, Lt. Col. Sullivan's most recent assignment is as the Institutional Training Officer for the Directorate of Training, United States Army Infantry Center (USAIC), Fort Benning, GA.