Steve Ivey
Star Staff Writer
07-01-2007

Reprinted here in its entirety.


Higher Ed Commission: Many Alabama graduates not ready for college

Like every Alabama high school graduate, Kyle Travis took four years of English and math. But Jacksonville State University wants him to improve his skills before he begins college-level courses.
In 2006, 28 percent of Alabama's graduates who enrolled in one of the state's colleges did not have the basic skills required for college-level math or English. But a program already used in other states could help change all that.
Last fall, 5,985 of Alabama's 21,118 graduates needed remedial or developmental courses in English, math, or both as freshmen, according to data collected by the Alabama Commission on Higher Education.
The National Center for Education Statistics estimates the same rate for all freshmen across the country.
Gregory Fitch, executive director of ACHE, said his first job in education was as a college English tutor.
"From a student's viewpoint, you leave high school with the anticipation you're prepared," he said. "You feel qualified to go forward. I think it comes as a big shock to students to find they're required to take a step backward."
Aside from stalling a student's plans — the classes don't count toward a degree — the catch-up work costs the states at least $541 million each year, according to a study by Houston Baptist University professor Christopher Hammons.
"With students who need developmental education, you often have to spend more time with one individual, rather than a lecture hall of 300," Fitch said. "You have to work one-on-one to understand why a student is taking those classes."
To get ready for his college-level courses at Jacksonville State University, Travis, a Dallas County High graduate, sits three hours each morning in the basement of Houston Cole Library.
"It's just trying to read as many words as I can as quick as I can," he said, "and running through my flash cards trying to remember all the terms."
According to the Editorial Projects in Education Research Center, 45 states, including Alabama, do not align their requirements for a high school diploma to public college admissions standards.
Earlier this year, the nonprofit testing group ACT found further proof of disconnect between K-12 and higher education systems.
In its national curriculum survey, ACT found that colleges generally prefer incoming students have an in-depth understanding of a select number of skills. But high schools tend to provide less in-depth instruction and focus on a broader range of topics.
Cynthia B. Schmeiser, president of ACT's education division, said the problem comes from state-mandated subject matter, not necessarily ineffective teachers.
"They are trying to cover too much in the limited time they have with students," she said. "As a result, key academic skills needed for success in college get short shrift."
The survey of high school and college faculty also varied: 76 percent of high school English teachers and 79 percent of math teachers felt state standards prepare students for college work. Only 33 percent of college English professors and 42 percent of math professors agreed.
But a program connecting prep-level school work with college-level courses could close the gap.
Fitch, of ACHE, said he wants to work toward what's known as a pre-K-20 system, which connects all levels of education from pre-kindergarten through higher education.
Lessons one year relate to work the next year, start to finish.
"It's too easy to simply point fingers," Fitch said. "If you've got a pipe with lots of different-sized holes and you roll marbles through it, some may block a hole and some may fall through. We need to keep the pipeline solid."
A similar program has been implemented in California.
Dave Spence, president of the Southern Regional Education Board, formerly served as executive vice chancellor for the California State University system, where 60 percent to 70 percent of incoming freshmen needed remediation.
He oversaw cooperation between K-12 and higher education there. Colleges defined what students needed to be ready, and high schools changed their exit exams to test for those skills.
"Reading reports and sending word back to the high schools after the fact for years and years really didn't move the ball much," he said. "So we joined from the very beginning to figure out a way to give students an idea while they're still in high school about whether they're ready. Our goal was to get in the classroom and see what is taught every day. That's the core to this."
Spence said California plans to study the first round of data later this year to see whether the changes are better preparing high school graduates. Also, Texas and Georgia are beginning work to bring K-12 and higher education together for similar cooperation.
Locally, 2006 graduates who needed remediation ranged from 56 percent, or 23 of 41, at Anniston High School to 6 percent, or 3 of 50, at Jacksonville High School.
All other high schools in Calhoun County ranged from 23 percent to 37 percent of grads placed in developmental education.
For outlying counties, remediation needs varied from 6 percent at Ranburne High School to 47 percent at Spring Garden.
At JSU, students who fall short on placement exams go to developmental classes in the Learning Services Department. Those who score below 16 on the ACT (the highest possible score is 36) must take the courses, according to the program's Web site. Those who score below 19 are encouraged to. Last year, 618 students found their way to the basement of Houston Cole Library for the courses.
"We can pretty much predict what high schools they've come to us from," said Claudia McDade, director of the department.
Each day at 8 a.m., students begin their groggy trek downstairs. In addition to the standard lecture-style classes, students sit at computer banks and rapidly click their way through one-minute drills.
Timers beep across the labs after too much time or too many wrong answers.
Bright bulletin board messages encourage students to work hard and persevere. The phrase "calculator dependence" is crossed out.
The material is mostly a rehash of high school lessons. But Travis said he has enjoyed his time in the department because his instructor, John Brown, will be his freshman English professor in the fall.
"He knows what I'm going to need," Travis said. "He tells us to call him J.B., but my parents told me to call my professors 'Doctor,' so I call him Dr. J."
McDade said she expected fewer students to need remediation once the Alabama Department of Education in 1996 began requiring four years of study in the four core subjects — math, English, science and social studies.
JSU's developmental enrollment remained consistent.
"We have one of the toughest graduation exams in the country; you would think things would get much better," McDade said. "We've been consistent in our numbers the past 10 years. And the motivation level has gone down.
"Students want it handed to them. That may have been their experience in high school, but we don't do much babysitting and hand-holding in college."
---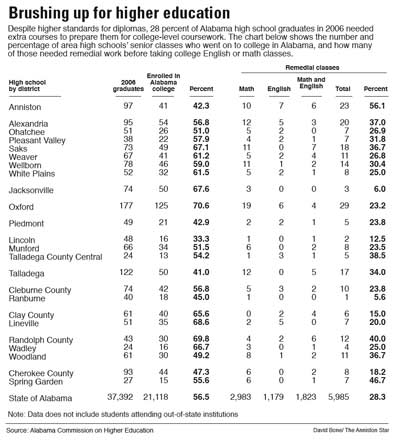 About Steve Ivey

Steve Ivey covers education for the Star.



See story at The Anniston Star's website: www.annistonstar.com .



Note: JSU faculty, staff and students may access The Anniston Star online through their affiliation with the University. Those not affiliated with JSU may have to subscribe to receive The Anniston Star online. If you already subscribe to The Anniston Star, you receive a complimentary online membership. This provides complete access to all the content and services of the site at no additional charge. Otherwise there is a $5 online monthly charge for their online service. Contact The Anniston Star for information.