Dr. Harvey Jackson III To Deliver
Second Annual Hinson Lecture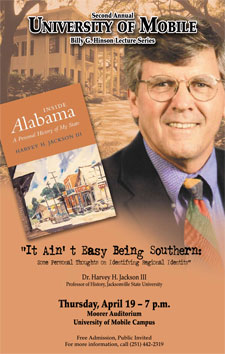 Dr. Harvey H. Jackson III, professor of history and chair of the history and foreign languages department at Jacksonville State University, will deliver a lecture entitled "It Ain't Easy Being Southern: Some Personal Thoughts on Identifying Regional Identity," as part of the Second Annual University of Mobile Billy G. Hinson Lecture Series.
The lecture will be held Thursday, April 19 at 7 p.m. in Moorer Auditorium on the University of Mobile campus. It is free and open to the public. For more information, contact Dr. Lonnie Burnett at 251-442-2319.
After earning his bachelor of arts from Birmingham Southern College, Jackson earned his master's from the University of Alabama and his Ph.D. from the University of Georgia. His most recent book, "Inside Alabama: A Personal History of My State," won the Alabama Historical Association's 2006 Clinton Jackson Coley Award for the best book on Alabama history with a local emphasis. He is past president of both the Alabama Historical Association and the Alabama Association of Historians.
Jackson is the author, co-author or co-editor of 11 books on various aspects of Southern history. He has written over 30 articles that have appeared in scholarly journals and anthologies, including "The William and Mary Quarterly," "The Journal of Southern History," "The Alabama Review," "The Georgia Historical Quarterly," "The Register of the Kentucky Historical Society," "Atlanta History" and "Southern Studies."
Jackson has also made scholarly presentations at meetings of the Southern Historical Association, the American Historical Association, the Georgia Historical Association, the Alabama Historical Association and more.
The Billy G. Hinson Alabama History/Political Science Lecture Series was established by the University of Mobile College of Arts and Sciences to honor Dr. Billy Hinson, who has been a professor of history at UM for over 26 years. The lecture series is an annual event that focuses on local history and politics.



---
Submit items for news releases by using the request form at www.jsu.edu/newswire/request

.