The Alabama Commission on Higher Education has just approved $125,000 for a fourth year of funding for Jacksonville State University's IMPACTSEED program, which helps physics and chemistry teachers and, ultimately, hundreds of students in area school systems. The program assists chemistry and physics high school teachers in connection with the No Child Left Behind Act. The latest funding is for the period March 2006 to July 2007.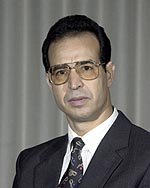 For the past four years, Dr. Nouredine Zettili, Jacksonville State University professor of physics, has been assisting northeast Alabama science teachers by improving the quality of course content for physics and chemistry courses in secondary schools. His project is called Improving Physics and Chemistry Teaching in Secondary Education -- or IMPACTSEED.
The latest funding will help teachers in the following ways:
1. Professional Development Institute: A Professional Summer Institute will be held from June 5-16 for 20 high school chemistry and physics teachers
2. Technology workshops: During Fall 2006 and Spring 2007, JSU will offer five technology workshops on Saturdays. They will be designed to help bring technology into high school chemistry/physics classrooms.
3. Onsite Support: During Fall 2006 and Spring 2007, JSU will offer onsite support to participating teachers. This will include lectures and a rich collection of demonstrations about physics and chemistry geared especially for high school students
4. Chemistry/Physics Hotlines: During Fall 2006 and Spring 2007, JSU will offer timely support (through phone and the Internet) to the teachers in the areas of physics and chemistry.
5. IMPACTSEED Website: The university will give useful information/links to teachers at http://www.jsu.edu/depart/pes/physics/impactseed/ .
The latest funding brings JSU's total funding for five years to $ 468,363.15.
Dr. Zettili said, "During the last four years and through my 2002-2003 SPINSEED (Strengthening Physics IN SEcondary Education) program and three IMPACTSEED grants (2003-2006), I have managed to reach out to teachers far-beyond JSU's service area; we have been serving teachers from 19 school districts and one private school located in 11 different counties. These teachers come not only from throughout Alabama but from other states as well, such as Georgia. During these four years, we have trained about 100 high school physics teachers.
"During the last four years, I have personally visited and offered numerous lectures about physics to high school students throughout Northeast Alabama. Having trained about 100 high school teachers and having given physics presentations at their high schools, a rough calculation suggests that we have impacted no less than 1,500 high school students."
As a result of IMPACTSEED, JSU is finding there is much better coordination in the area of chemistry/physics between high schools in Northeast Alabama and JSU.
"We know the high school teachers, we know their students, we know what was covered in chemistry/physics at the high school level as well as the depth of coverage," he said. "This makes the transition of the students from high school to JSU seamless. In addition, we have been seeing a heightened interest among high school students enrolling in chemistry and physics."
Zettili encourages chemistry/physics teachers to register for the 2006 Summer Institute (which will run from June 5 to 16.
"This year, every teacher will receive $2,200.00 worth of teaching kits/modules," he said.
Registration is limited to 20 teachers. The registration form for the 2006 Summer Institute can be downloaded from the project's website at www.jsu.edu/depart/pes/physics/impactseed/ . The form should be returned by e-mail to nzettili@jsu.edu. Acceptance into the program is based on a first come, first served basis until 20 seats are filled.