By Sherry Kughn
News Bureau
14 February 2005 — The evidence is everywhere that February 14, dear old Valentine's Day, is not far away. Stores decorate with red hearts and display flowers and boxes of candy and cards. Love is in the air and everyone is happy, right?

Not so for everyone. Being alone on Valentine's Day can create the blues for singles.

"I'm not thrilled to see it come," said Marcedric DeArman, a Jacksonville State University freshman from Anniston.

"I hate it," said Anna Keefe, a junior from Fort Payne.

"It's like a regular day," said Paul Wilson of Carrollton, Ga.

So much for the day created especially for lovers.

Gary Brittain, who directs the Baptist Campus Ministry (BCM) at JSU, knows from experience in working with students during the past 15 years that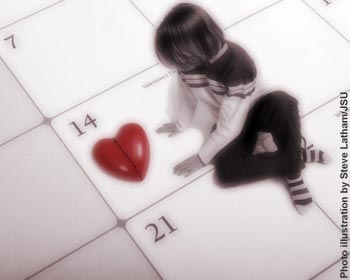 many have depressed feelings on Valentine's Day. He said a transition happened about eight to ten years ago that changed students' attitudes about the holiday. He began noticing that those with no date felt left out at Valentine's Day parties.

"If I bring it up now, some of the ones who are not dating speak up pretty quick," said Brittain. "They don't want to have an event, and those who are dating will have one."

Brittain, his staff, and the students who attend activities at the BCM avoid group activities on the holiday.

Brittain is not the only one to notice a change in people's attitudes about Valentine's Day. JSU Psychology Professor Claudia McDade, who also directs the Department of Learning Services, said college students these days are not as involved in finding a love interest.

"They seem to be more involved in learning who they are, trying to establish their identity," she said. "Thirty years ago, students did that in high school."

Students these days, Dr. McDade said, are less likely to get married while in college and they postpone significant relationships. Those aren't the only reasons, either, for avoiding Valentine's Day. Society views holidays differently than just three decades ago. Holidays such as Halloween and Valentine's Day were only for children back then. College-age students and adults these days dress up for Halloween and take part in Valentine's Day activities as a way to reclaim their childhood.

Whether or not a person is depressed about Valentine's Day depends on their circumstances, said McDade. "It's a very individual thing," she said.

Not all of the single students interviewed, though, think of Valentine's Day with negative connotations. Three of the six students were excited about it. Josh David Mayfield of Kimberly said he loved Valentine's Day, even though he is a bachelor. He plans to buy something for or make phone calls to about 15 of his family members and friends.

Sophomore Brandon Pisacrita plans to spend Valentine's Day looking for a unique way to express his feelings for his girlfriend, who lives far away.

"The last letter she sent me was written on a hubcap," he said. "I'll find something crazy and fun and write to her that I hope things are going well and that I love her."

Tiffany Lovelady of Ashland has always enjoyed the holiday, she said, even though she was alone. This year is more exciting because it is her first to have a boyfriend.

"I'm wondering what he will get me and what I will get him," she said, giggling. "We may end up eating at a restaurant and just spending time together."

All the students said they would acknowledge the holiday by taking part in at least one activity, if not with a person they love romantically then with a person they care about.

Taking part in an activity is the best way to enjoy the holiday and overcome depression, said Dr. McDade. "Do something nice for somebody."

McDade offers several other ideas about how to minimize dread of that one day out of the year when love reigns:


Realize the day will pass quickly. It's not like the Christmas holiday that lasts for weeks.


Avoid restaurants on Valentine's Day and instead go for fast food. Some restaurants celebrate with roses, special seating, and special foods—reminders of being alone.


Do something nice for somebody, even if it is not someone who is a love interest.


Do something for children, such as buying treats and taking them to a day care center.


Look forward to spring. Once Valentine's Day is over, spring is not far behind.


Avoid spending a lot of money, even if sharing the holiday with a special person. The day after Valentine's Day, said McDade, roses go for half price. Buy your loved one an orchid, a potted plant, or a piece of jewelry. There's no sense in wasting money.



---

Submit items for news releases by using the request form at http://www.jsu.edu/news/requestform.html.