By Al Harris
News Bureau
One of Jacksonville's best-known historians got her start the day a secretary overruled Jacksonville State Teachers College President Clarence W. Daugette.
One day in 1937, sophomore Edwerta Carpenter went to see President Daugette about working in the school library, located then on the third floor of Bibb Graves Hall, which was a new building and served as the school's only classroom complex.
For whatever reason, Dr. Daugette decided he "didn't want me to have that job," recalls Miss Carpenter. "But his secretary got me the job anyway, and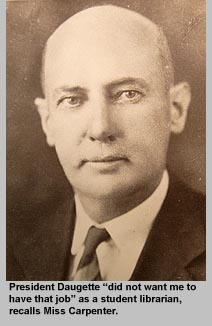 Ramona Wood knew best -- she took me on secretly, and we never told Dr. Daugette. He was out of town a lot on student recruiting trips to build up the college, and he never knew."
Ramona Wood's gumption sealed Miss Carpenter's fate. Miss Carpenter immediately fell in love with research, which would become a way of life as she diligently pried and poked into local history.
Miss Carpenter, now 84, is still recognized as one of the best authorities on Jacksonville's past. Since her college days, Miss Carpenter has created hundreds of slides that document early Jacksonville. She mined those files -- hundreds of pages of handwritten and typed note cards and sheets -- to author the major portions of Jacksonville's history in the 1998 book, The Heritage of Calhoun County, Alabama. She also produced a thorough file on the history of her own church, Jacksonville's First United Methodist. During the past 50 years, her research and photographs have thrust her into the spotlight as one of the most in-demand speakers in the area. And now Miss Carpenter is busy organizing her vast set of files for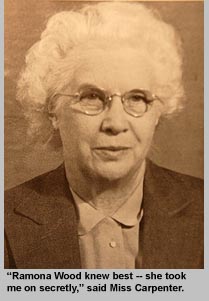 eventual donation to the Jacksonville Public Library.
It all began with Miss Carpenter's secret job working for Ramona Wood, who Miss Carpenter described as "a strict lady who had to be strict to run the library and keep up with the books." She summarizes her years with Mrs. Wood simply: "I liked her." And Mrs. Wood looked upon Miss Carpenter as a favorite, even trusting Miss Carpenter with the meticulous task of moving books to the new Ramona Wood Library her senior year.
"We had several thousand books at that time [on the third floor of Bibb Graves] and very little space. Most were in the areas of history, education, and science," she said.
It was the history section that most appealed to Miss Carpenter, who began taking every class she could get under history department head Robert Felgar.
"I trained to be a history teacher; I knew that was what I wanted to follow. I particularly liked U.S.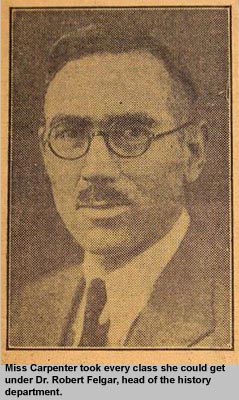 colonial history. Then, I don't know exactly when, I began collecting material on local history and making my slides. I got a Kodak camera," she said.
Miss Carpenter organized her files into topics: historic homes, the local economy, education, the town square, the relocation of the courthouse to Anniston. She began digging into sources and filling her folders with every scrap of information she could find about significant people, landmarks, and buildings. She thoroughly consumed the Jacksonville News and other newspapers, reading with an eye for specific topics to keep her files current.
"Early in Jacksonville's history, everybody knew everybody else. People who lived here had friends. Jacksonville's history is really about education and religion -- and the two were tied together back then. When you look back, you see that people were closer to God, and they had a love for education, and that's what helped build the town," she said.
In a way, Miss Carpenter was born to be the local historian. Miss Carpenter entered the world on January 2, 1921, in a two-story house on a corner lot on Ladiga Street just a stone's throw from the Jacksonville Book Store and the former location of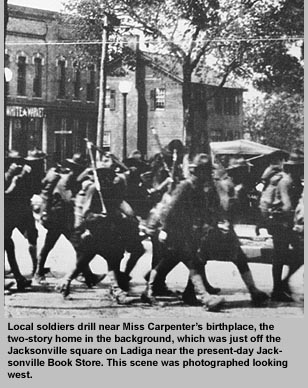 the late John B. Nesbit's insurance agency office. Her father, Joseph P. Carpenter, ran a grocery store and worked for the Greenleaf Water Works. Her mother, Lola Foreman Carpenter, worked for The Mercantile and later for Brown's Department Store, both on the square.
"I grew up on the square," she said. "My mother insisted that I come to the store after school, and as a child I played on the square, and when I got tired I would go back to the store and sleep on stacks of overalls on the counter. I went to picture shows on Saturdays. They were a dime. The store was not far from the old tavern on the east side, and I got to know all of the old buildings."
As a young adult, she joined Eastern Star, which is the women's auxiliary of the Masonic Lodge. Miss Carpenter quickly discovered that both organizations were steeped in history (Jacksonville's Hiram Lodge #42 was one of northeast Alabama's earliest lodges) and kept important primary source documents.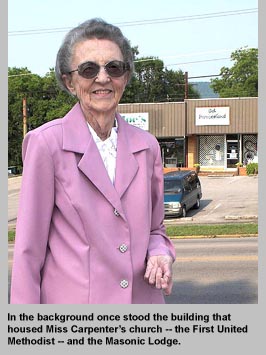 A lifelong Methodist, Miss Carpenter went to church in the new Methodist building on Pelham Road that was constructed in partnership with the local Masons, who used the top floor. (The building was long ago replaced by a strip mall.) There, Miss Carpenter began her early investigation into the history of the town's First United Methodist Church.
At every turn, the young lady ran into important historical resources. College work would be a snap -- she lived to learn. Miss Carpenter received her B.S. in education in 1939, began a 40-year teaching career, and along the way earned the M.A. in 1959. As always, Miss Carpenter went on to take additional courses that did not count toward a degree but were of specific help to her as a historian. Miss Carpenter took an additional 30 hours in library science at JSU, but was unable to complete the degree due to scheduling conflicts while employed as a teacher, but the credential was less important to her than the knowledge.
Miss Carpenter attended school from grammar school through master's level in Jacksonville. Her early teachers were Normal School graduates and she remembers being taught by the Normal School's student teachers. After graduation from the State Teachers College, Miss Carpenter taught elementary school in Ohatchee for two years before transferring to the Anniston city system, where she served 38 years, the last 17 as a principal. Her last school was Norwood Elementary, where she retired in 1980.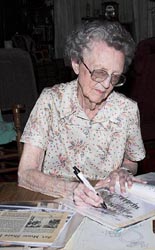 Her two major passions throughout her life were teaching and research -- those passions outweighed other personal concerns. Early in her teaching career she married a soldier stationed at Ft. McClellan whose home was in Wisconsin. The soldier wanted to return home and take her with him, and that presented Miss Carpenter with a difficult decision: to move or remain in the town she loved. She decided to stay. And today she continues to use her maiden name, preferring to be called Miss Carpenter or simply Edwerta.
"I think knowing your local history is important," she said. "In the early days, people had to work out their own problems. There was no one else to do that for them. They made some mistakes. Now we can look back and see how they approached their problems and avoid making their mistakes.
"We can also appreciate our beginnings and the early people of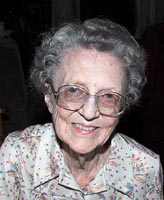 Jacksonville -- the Stephensons, the Woods, the Nesbits, and many others who built up the town. And we can appreciate the plantations, such as Henry Farm. We have a rich heritage."
And she says her favorite lesson from Jacksonville's history is this: "Love one another. Be friendly. Help one another. This is what has made Jacksonville."