By Sherry Kughn
JSU News Bureau

15 February, 2005 — Effie White Sawyer's The First Hundred Years: the History of Jacksonville State University, 1883-1983 is now available free online, thanks to the Houston Cole Library and an Alabama history program called The Cornerstone Project.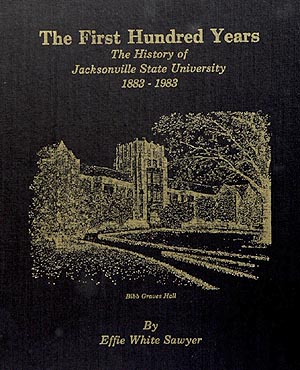 The Cornerstone Project is sponsored by the Alabama Commission on Higher Education with a National Leadership grant and funds donated from the Alabama Department of Archives and History, Auburn University, The University of Alabama, and the Network of Alabama Academic Libraries. Dozens of other texts of Alabama history have been posted online in a repository of historical information from other libraries and organizations.

In addition to this book of history, the Houston Cole library will soon donate "The Henry Strange Collection of Alabamiana," which will include more than 200 items related to the early 1800s in Alabama.

The Cornerstone Project was made possible through the efforts of the Network of Alabama Academic Libraries consortium, of which Houston Cole Library is a member.

According to Sawyer's research, the story of JSU starts during the early 1830s when several wives of area settlers asked for a school for their children. The men complied and built a log cabin, likely called the Blab School because of the school's emphasis on oral recitation. Later, around the 1860s, the school was split into The Jacksonville Male and Female Academies because it was "tradition" that women and men should not attend together. Back then, each course cost between $15 and $30 and was geared toward the teaching of commercial enterprises. The staff assisted students in finding jobs. Some of the courses available were mental arithmetic, elocution, moral philosophy, French painting, and fancy work and chenille. These and other facts can be viewed at www.alabamamosaic.org.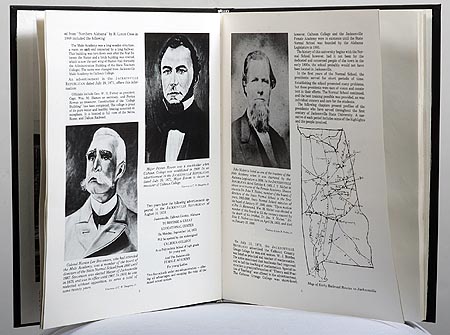 To learn more about Dr. Sawyer's JSU history book, go to the website and click on "Browse the collections," then click on the word "Education." Scroll down near the bottom of the list to The First Hundred Years title and click on "display." Click on the icon of the PDF file on the right. A list of chapters in the book comes up. Read each chapter by clicking on the chapter heading.



---
Submit items for news releases by using the request form at http://www.jsu.edu/news/requestform.html.