Dr. Reed to Discuss Her Book on the Virgin Mary March 15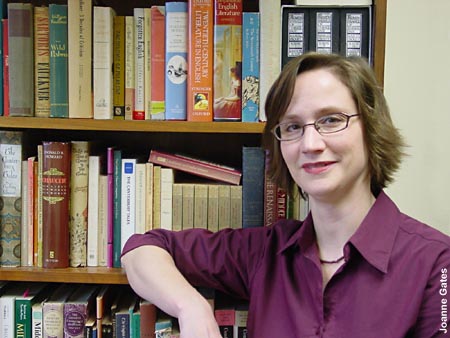 Dr. Teresa Reed
By Randy Wilson
JSU News Bureau
25 February 2005
— Dr. Teresa Reed, Jacksonville State University associate professor of English, will discuss her book,
Shadows of Mary: Understanding Images of Mary through Medieval Text
(University of Wales Press, 2003), during a meeting of Friends of the Houston Cole Library at 7 p.m. Tuesday, March 15 on the 11th floor of the library. The event is open to the public.
Dr. Reed, whose book will be available for purchase and signing, wrote about the myths of Mary's body in medieval Christianity.
Dr. Reed teaches, among other courses, freshman composition, a Chaucer seminar, and feminist theory. She received her Ph.D. from the University of Florida. Dr. Reed's specialty is Middle English (the period from about 1100 to 1500) literature with an interest in the feminist point of view.
Dr. Reed said, "The inspiration for this book came from research I performed for my dissertation. I have always been interested in how woman were portrayed in medieval literature."
The presentation will include a discussion of the disputes about Mary's physical existence. According to Dr. Reed, during the European Middle Ages the definitions of womanhood were filtered through that culture's perspective on the Virgin Mary.
"One of the most misunderstood elements of Mary was that she was a real, historical person with real problems. She had to face the day-to-day hardships of life that any other woman of her time would have. In medieval times, she became the 'symbol' or 'measuring stick' by which all woman were judged."
Dr. Reed's book is filled with myth-busting facts. During her presentation, Dr. Reed will talk about some of the issues that helped create the myths about Mary and her body, including Mary's conception and birth, virginity, motherhood, role as a wife, and her death.
"What I hope to accomplish with this book is to shed light on how the perception of woman in medieval times was distorted by religious entities and biblical doctrines. They manipulated the image of Mary to fit their concepts of what a woman should be."
Dr. Reed has published articles about Chaucer's
Man of Law's Tale
, recordings of medieval texts in connection with Chaucer Studio, and written about the Middle English poem
Pearl
.
---
Portions of this article were drawn from
Saltire
, the newsletter of Friends of the Houston Cole Library.