By Sherry Kughn
JSU News Bureau

10 February 2005 — JSU alumnus Michael Parker of Anniston has become the first law student accepted into the new national security law program at Catholic University of America (CUA) in Washington, D.C. Sparked by a growing need for legal experts on matters relating to homeland security, the program focuses on national security and foreign affairs.

Until this past December, Parker was working in Anniston for Legal Services of Alabama as counsel for the elderly for East Alabama Regional Planning and Development Commission's Area Agency on Aging. Parker said he loved his job providing free legal assistance to people more than 60 years old who lived in a ten-county area, but the new opportunity sounded too good to pass up.

"The degree will give me the chance to expand upon my professional experience as a legal aid attorney," said Parker, "and to take an active role in helping to shape and develop legal authority and decisions in the crucial area of national security."

Parker heard about the offering from JSU alumnus Tim Ballard, who received a master's in music from JSU in 2004 and is working on a Ph.D. in music at CUA. They aren't the only JSU influence at CUA. Former JSU faculty member Dr. Richard Armstrong works there as a voice instructor. Another reason Parker was attracted to the school was that his twin brother Richard is an attorney with the U.S. Treasury Department.

In addition, Parker said he liked the idea that CUA's Columbus School of Law is known for pioneering work in legal education and advanced skills training. He liked the university's reputation for having great scholars and was based in the D.C. area. Parker is hoping to get a position with the government.

"The Columbus School of Law students," said Parker, "have access to the richest pool of talent and experience imaginable."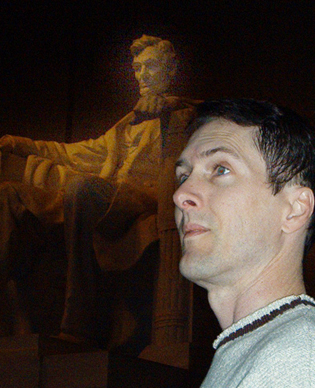 Parker, 40 years old, graduated from Anniston High School in 1982. He enrolled at Auburn University and was almost killed before receiving his first degree. While riding his bicycle home from a job late one evening, a drunk driver struck him. The accident broke both of his arms and his left leg and hyper-extended his right knee. He returned home for an operation and to the care of his parents, David and Mary Parker of Anniston.

  

Thanks to their care and assistance, Parker was later able to transfer to JSU. At first he was on crutches, but he eventually recovered enough to walk without them. He also returned to work to help pay for his tuition, working at one time or another at Wizard Car Stereo, Anniston Army Depot, and the Anniston Bowling Center.

Parker obtained a bachelor's in marketing in 1987 and the MBA in 1989. He considered obtaining a doctorate in education, but he felt a law degree combined with his business background would offer more options.

His parents, both college graduates, encouraged him to study further.

"Life isn't easy, they taught me," said Parker. "If you have goals, you have to work and achieve."

Parker pursued a degree from the Birmingham School of Law. His high grades impressed one of his professors, Rick Wyatt, who offered him a job as a paralegal in his firm, Wallace & Wyatt P.C. Parker graduated in 1997 and worked at Compass Bank managing the bankruptcy and foreclosure department. He grew tired of the job, and when he saw the opening for a position at the Agency on Aging, he took it.

"I'll probably end up in public service or in one of the government agencies," said Parker. "Perhaps I could work as an agency's legal council or in an administrative position."

Parker is studying international law, humanitarian law, national security law, and policy-making in government.

"It's stimulating. We are on the cutting edge of law preparation here, and I feel I am getting prepared for future job opportunities," he said.



---
Submit items for news releases by using the request form at http://www.jsu.edu/news/requestform.html.