By Sherry Kughn
News Bureau
January 25, 2005 -- Throughout the past ten years, Jacksonville State University and a sister university in Wuhan, China have maintained a relationship that has benefited both. Thanks to JSU's Books for Baghdad program, a similar relationship might be formed with Baghdad University.

These efforts are only part of JSU's tradition of fostering ties to the rest of the world. The International House (IH), which started in 1946, has been instrumental in assisting thousands of foreign students with their educational goals. Just this past October, a reunion of 44 IH alumni representing 10 countries met on campus and enjoyed a weekend of food and fellowship. Another reunion is planned in Paris for July, 2005.

Wuhan Scholar Program

The alliance with Wuhan University (WU) began during the early 1990s when JSU sociology professor Adrian Aveni received a Fulbright Scholarship to study there. Since then, professors and staff from JSU travel there each year to teach and to study.

JSU's Wuhan Scholarship allows one professor each year from WU to conduct research, teach classes,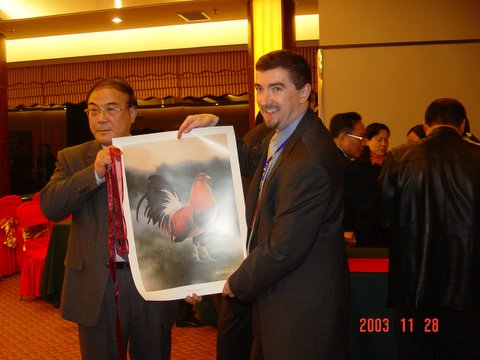 and observe educational practices while at JSU. Several JSU professors and/or staff have reciprocated the opportunity. Dr. Joe Delap, the associate vice president for academic affairs, attended WU's 110th anniversary celebration during November and December of 2003. He spoke to the faculty of English, met with the president, attended the celebration, and interacted with faculty and students. He conducted several question and answer periods for the students about education in the U.S. and once traveled with a group of students in a ship down the three gorges of the Yangtze River.

Others from JSU who have gone to Wuhan in recent years are Dr. Rodney Friery, Mr. David Keefer, and Dr. Fred Kelley. Another link JSU shares with Wuhan is through JSU's law/technology reference librarian, Mrs. Wang Hanrong, who is from Wuhan. Each year, she provides assistance to the visiting scholar.

Newer alliances

JSU has begun working with the National Collegiate Network based in California to attract Japanese students. At least eight students will arrive in this semester and more than triple that number should be enrolled by May.

JSU's Books for Baghdad has been a surprising success story. It was a program founded during early 2004 by Iraqi native and JSU biology professor Dr. Safaa Al-Hamdani. He, along with several JSU professors, decided to gather excess textbooks to send to BU. The idea for the program spread quickly, first to universities from across the state, then to universities throughout the southeast. The response attracted national attention from the news media and allowed JSU to send more than 10,000 books and $6,500 in school supplies to BU this month. In addition, a partnership was formed with the International Relief and Development, Inc. (IRD) organization, which paid for the shipping of the books and supplies. The textbook aspect of the program will end this year, but ties established during the program will continue in partnership with other international organizations. The extent of involvement with BU depends, of course, on the political situation in Baghdad. The administration hopes to expand the faculty and student exchanges programs with BU.

Dr. John Ketterer, director of the International House, is familiar with the benefits of foreign exchanges programs. "Both relationships," he said, "can enrich the diversity of our university, provide our scholars the opportunity for foreign-based research, and lay the groundwork for future creative activity."

Tuition from Foreign Students Helps United States

Tuition paid by foreign students contributes annually $13 billion to the U.S. economy, according to a November 29 article by Joseph S. Nye, Jr. in the New York Times. Its premise is that there are benefits even more important than money. Dr. Ketterer agrees. It is the building of friendships with students with the potential of becoming future leaders in their fields of study. These leaders, too, often return to their countries and influence future students to study, hopefully, at JSU.
At JSU, statistics for 2002 show 212 foreign students contributed about $1,300,000 in tuition and more than $3,000,000 annually to the economy of Calhoun County, according to Dr. Bill Fielding, dean of JSU's College of Commerce and Business Administration. Those figures will grow as efforts to attract foreign students begin to take effect.
The New York Times article also states that foreign students fill the demand for an increased need in the United States for doctoral-level scientists and engineers. Dr. Rebecca O. Turner, JSU's vice president for academic and student affairs, said JSU often hires international students as graduate assists and adjunct professors but not on a doctoral level.
Positive experiences for foreign students is what JSU hopes to develop.
JSU hopes to gain new friendships and attract foreign students with the development of a sports program formed by its new alliance with the IRD. Maria Tsvetkova, the IRD logistics officer, visited JSU November 18-20 to assess the needs for the Books for Baghdad program. She discussed the possibility of developing a sport exchange program with BU. Ms. Tsvetkova met with Dr. Ketterer, President Dr. Bill Meehan, Dr. Al-Hamdani, Coach Jim Fuller and others from JSU and the community. She was impressed with the friendly atmosphere at the university, especially the International House.
"We're looking forward to helping this grassroots project, and it's a pleasure to work with the community," said Ms. Tsvetkova. "We are looking for targeted relief [to foreign countries] that can be sustained."
One of the IRD's goal is to gain participation between other countries and the United States in order to build a more civil society. Sports, the IRD recognizes, is one of the best ways to enlist a community's desire to strengthen international ties. The design of the new program is for JSU to host an 18-member team from Iraq at The International House and provide them with training, instruction, and exposure to local culture.
Activities are being planned for the team to visit in June of 2005. Plans are for the league to take part in a sports camp, attend a Braves baseball game, visit CNN in Atlanta, visit the Civil Rights Museum in Birmingham, and explore Little River Canyon.
"The International House makes it attractive economically," said Dr. Ketterer. "Jana McGinnis and Bill Fuller would run the sports aspect of the project, and Safaa Al-Hamdani would be the native speaker. This community wants to make this work."
The possibility exists that the program might become a model, too, for the IRD.
"Plus, the league will bring their culture here," said Dr. Ketterer. "The exchange will take place on our soil."
Dr. Guo Saijun is Current Wuhan Scholar
Dr. Guo Saijun, who is the current Wuhan scholar,
received the 1999-2000 Excellent and Devoted Teacher Award at WU. She has been an English professor there since 1986. She spent the fall 2004 semester at JSU, and plans to stay through this spring semester. She also has a background in translating into English television shows and has co-edited manuals in English.
She has enjoyed her JSU experience. "This is a friendly campus, a very beautiful environment," said Dr. Guo. "I'm impressed by the library. The librarians are helpful. I have observed some classrooms. The professors are very friendly."
Dr. Guo has also enjoyed rafting during an outing with the IH students. She has attended concerts, church services, art shows, and homecoming.
"I want my students to have a global understanding of the American culture. I do not want them to know only the negative aspects of American culture but also the positive aspects."
Dr. Ketterer Happy about June Visit from Iraqi Students
Dr. Ketterer is happy for the IH to be the base of activities for the Iraqi softball team.
"They will be exposed to the intimacy of small-town, college life," he said, and he looks forward to future developments. "We're looking for creative opportunities and ways we can interact with international institutions and groups."
---
Submit items for news releases by using the request form at http://www.jsu.edu/news/requestform.html.