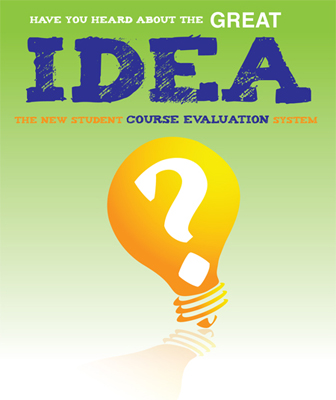 It's a Great IDEA!
This fall JSU is participating in IDEA (Individual Development and Educational Assessment), a course evaluation system.

Beginning November 10, students will receive e-mails from IDEA for each of their courses. Each student is asked to take a few minutes to click on each link, enter the first part of his or her JSU e-mail address (the part before the @) and complete each evaluation form. Reminders will be sent through December 5, so students should check their JSU e-mail beginning November 10.
To encourage participation, all respondents will be entered in a drawing to win one of these great prizes: a JSU jump drive, a $100 gift card to the JSU Bookstore, an iPod Shuffle or an iPod Touch. Although not everyone is guaranteed a prize, each participant will have an opportunity to let his or her voice be heard!
Remember...

Begins with a Great IDEA!


For more information about IDEA, contact the Office of Institutional Research and Assessment at ext. 8144.

---
Submit items for news releases by using the request form at www.jsu.edu/newswire/request