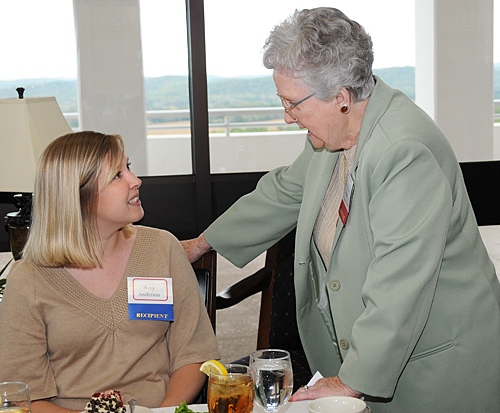 Scholarship recipient Amy Anderson visits with donor Mary Elizabeth Johnson at the JSU Foundation Scholarship Luncheon. (JSU/Angie Finley photo)
JSU Foundation Honors Donors, Recipients
at First Scholarship Luncheon

The JSU Foundation hosted its first Scholarship Recognition Luncheon honoring its scholarship donors and recipients on Thursday, October 23 at noon on the twelfth floor of the Houston Cole Library.

Fifty-seven persons attended the event, including 16 student scholarship recipients. The remainder were scholarship sponsors, JSU Foundation Board members and JSU staff.

Presiding over the occasion were Dr. William A. Meehan, university president; and Don Martin, president of the JSU Foundation board. Scholarship recipient Matthew Morgan was the featured student speaker.

Following lunch, scholarship recipients in attendance as well as others appearing via video introduced themselves and shared their educational and life goals with attendees. For more information about scholarships awarded through the JSU Foundation, visit the Foundation's website.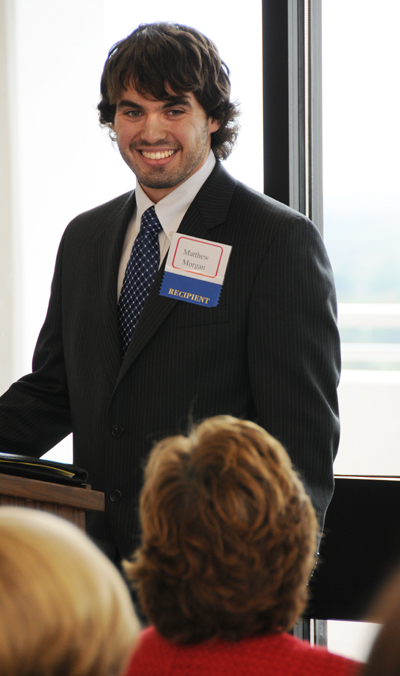 Above: Scholarship recipient Matthew Morgan shares his thoughts during the JSU Foundation Scholarhips Luncheon. Below: JSU Foundation Board President Don Martin speaks to luncheon attendees. (JSU/Angie Finley photo)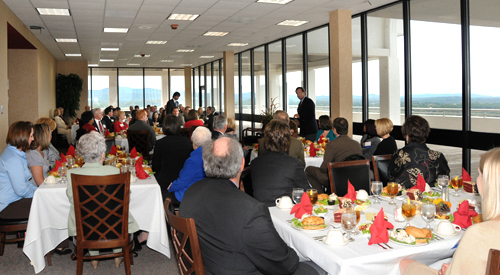 ---
Submit items for news releases by using the request form at www.jsu.edu/newswire/request