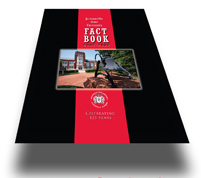 2007-2008 JSU Fact Book
Receives Regional Recognition

The commemorative 125th anniversary special edition of the JSU Fact Book was awarded second place in the Fact Book competition during the Southern Association for Institutional Research Conference, which took place October 18-21 in Nashville.
The announcement was made at the conference awards breakfast on October 21, and JSU OIRA Coordinator of Institutional Research John Rosier received the award on behalf of the university. In addition to the Best Fact Book category, SAIR gave awards for the Best Planning Document, Best Mini Fact Book, Best Website, and Best Electronic Fact Book.

OIRA staff members who worked on the 2007-2008 Fact Book for JSU were Alicia Simmons, director; Tienhan Ma, coordinator of assessment; and Krystin Mitchell, student assistant. Former OIRA staff members Angie Finley, now a public relations specialist in the JSU Public Relations Office; and Omer Minhas, now assistant director of systems and reporting at Dartmouth College; also contributed to the edition.
To view the 2007-2008 Fact Book online, please click here.

---
Submit items for news releases by using the request form at www.jsu.edu/newswire/request