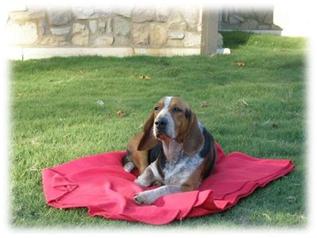 "Ralph" enjoys a moment of pampered luxury during Canyon Fest on Sunday. (courtesy photo)
A Tale of Two Beagles:
Canyon Center has First Overnight Guest

By Pete Conroy, Director
JSU Environmental Policy and Information Center

A wrestling coach from Fort Payne High School showed up at the JSU Canyon Center Field House late last night. He was screaming "Bama. Bama!"

Frantically, after having been given a tip that some beagles had been seen at the Canyon Center, he sped to the Field House and quickly I was able to verify that the two dogs, who'd made residence, were his lost family pets.

Nearly crying he called for his dog when surprisingly we heard howling from inside the building. Bama, formerly known as Ralph, had been locked in the Canyon Center by mistake! The reunion and phone calls to family were emotional and joyous but then there was the matter of the other beagle. The other one was a starving female who had been adopted by a kind building contractor from Cullman. Upon hearing the story, but with mixed emotions, he agreed to return the dog the following morning. After another emotional reunion, the family was back together.

The dogs were just two out of many other abandoned animals who were well taken care of by the guys from Eidson Inc., the construction company who built the Canyon Center.

But for sure, Ralph may have had the most interesting week. Aside from his adventure on the job he hosted Congressman Robert Aderholt with his guests and also Senator Jeff Sessions with his group.

On Sunday Ralph became the unofficial Canyon Center mascot while 700 people visited the Center for the first time.

Then on Monday he became a source of chaos and comedy as he crashed the very formal meals and meeting of the JSU Board of Trustees. While a few cussed him, county music great Randy Owen and most others defended him. Some even snuck him portions of their rib eye steak.

The dogs and happily reunited family are always invited back to the Canyon Center, where next time we promise to not lock them inside, when they are ready to go!
For more information about the Canyon Center please call 256-782-8010 or contact its director, Pete Conroy.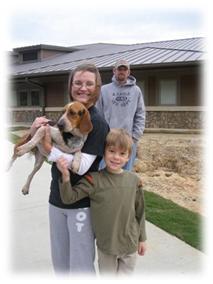 The same dog, whose real name is "Bama" enjoys being reunited with family on Tuesday. (courtesy photo)

---
Submit items for news releases by using the request form at www.jsu.edu/newswire/request