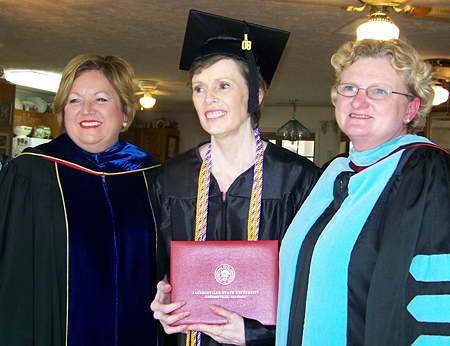 Pamellia Henegar, center, poses with her new degree at her home in Fayette on August 18. The honorary BSN degree was presented by Dr. Rebecca Turner, left, VPASA; and Dr. Phyllis Waits, right, STEP director. (courtesy photo)
Pamellia Henegar:
A Profile in Courage
By Carla Willingham
How do you define courage? The accepted dictionary definition is as follows: "the quality of mind or spirit that enables a person to face difficulty, danger, pain, etc., without fear; bravery"
Have you ever known anyone to possess those qualities? When we think of someone with courage, do we automatically envision a person who risks life and limb for their country in the cause for freedom? Or perhaps we picture a firefighter rushing into a burning building to rescue people trapped inside. Or does a brave policeman capturing criminals come to mind?
While those are extremely valid examples of courage, I want to tell you about a lady who quietly exudes courage every day of her life. A lady whom I was fortunate enough to meet one beautiful summer's day in August and who has forever changed the way I view courage.
This lady is Pam Henegar.
What makes her so courageous you may ask? What makes her so special that after spending just a few hours with her my life was forever impacted? Well, allow me to explain. Beginning in the Spring 2005 semester, Pamellia Henegar became a student working towards entry into the RN to BSN STEP program at Jacksonville State University. Earlier in her career, Pam had received an AD degree and was licensed as an RN. She was a successful administrator, but her love and thirst for knowledge compelled her to pursue her BSN degree. Most of the students in the online STEP program have prerequisite requirements that must be fulfilled before they can be accepted into the STEP program and begin their pursuit of the coveted BSN degree. Pam was no exception. She signed up for the necessary prerequisite courses and thus began her journey towards acceptance into the online STEP nursing program.
Again, you might ask, how does that make Pam courageous? Did I mention that Pam was diagnosed with and was battling cancer while she was working towards this BSN degree? And did I mention that the dream of earning her BSN was stronger than the chemo treatments that would cause her body to be racked with pain? And that her will was stronger than the grim prognosis that was given to her?
You see, Pamellia Henegar was no ordinary student. In spite of multiple surgeries and grueling chemotherapy and radiation, Pam completed the nursing courses and was enrolled in her last two general study courses when the time came for her to enter hospice care. Cancer is a relentless foe and Pam became too weak to finish these courses. Her efforts to complete the BSN seemed to have fallen just a little short... it seemed Pam would be unable to reach her goal.
Pam's academic performance was exemplary. She qualified for the International Nursing Honor Society, Sigma Theta Tau, but was unable to attend the induction ceremony at JSU. In recognition of her powerful spirit and determination, the STEP Director, Dr. Phyllis Waits, along with Cindy Tubbs, Clinical Associate, traveled to Fayette, Alabama to award Pam the Sigma Theta Tau "cords" she had earned. In Pam's hospital room, Dr. Waits performed the induction ceremony which family, friends, and her doctor witnessed with joy.
Having excelled both in her 28 years as a registered nurse and having earned a 4.0 GPA in the STEP program, it was evident to the STEP Director, Dr. Phyllis Waits, that Pam's knowledge base and clinical skills far exceeded minimum degree requirements. Pam's dream of a BSN degree was contagious. This dream was "caught" by Dr. Waits, Dr. Becky Turner, Vice President for Academic and Student Affairs, and JSU President, Dr. Bill Meehan.
Flash forward to August 18, 2008, Millport, Alabama (on the Mississippi state line), Pam Heneger's home. In attendance are JSU's Dr. Becky Turner, Dr. Phyllis Waits, Ms. Cindy Tubbs, and Ms. Carla Willingham. The room is filled with 35-40 of Pam's family and friends. Dr. Turner conferred an honorary BSN degree, complete with all of the "pomp and circumstance." There was not a dry eye to be found when this amazing graduate moved her tassel to the position of college graduate.
And it was on that day, that I came face to face with the definition of the word courage.
The next hour was filled with stories from family members of bravery, courage, and unparalleled strength. As I, one the fortunate few who was honored to witness this special occasion, was enveloped into this special family's loving embrace. I kept my eyes on Pam, committing to memory the face of true courage.
As it became obvious that the excitement of the day was beginning to take its toll on Pam's fragile body, we began to pack up, take the last minutes photographs and then go home to our lives, reluctantly leaving behind the family that had taken us in so warmly and allowed us to share in this special day.
Now when I think of courage, the first face that comes to my mind is not of a brave soldier, firefighter or policeman, but of a soft spoken warrior with a will to live and a desire to help others that can not be squelched by a mere cancer diagnosis.
And though the future remains uncertain, Pam continues to marvel in each day that she is given; and continues to inspire those around her.
Ladies and gentlemen, I give you my definition of courage... Mrs. Pamellia Henegar.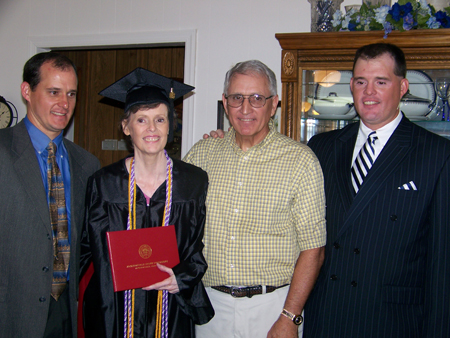 Pamellia Henegar, center, surrounded by her supportive family. (courtesy photo)

---
Submit items for news releases by using the request form at www.jsu.edu/newswire/request