(The following article is reprinted in its entirety from the October 19, 2008 edition of The Anniston Star)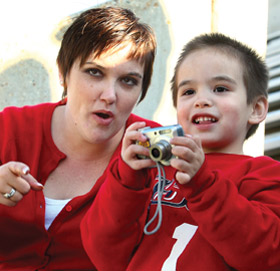 Hillary Toucey helps her son, Eli, make a picture of Ryan Perrilloux as the JSU Gamecocks take the field. Photo: Stephen Gross/The Anniston Star

Perrilloux's Biggest Fan: Louisiana Boy Travels to Watch Quarterback
By Christa Turner
Assistant Sports Editor
10-19-2008
JACKSONVILLE — Ryan Perrilloux lowered his sore body into a crouch, holding his arms out for 4-year-old Eli Toucey.
Eli had been waiting. Sporting a red Jacksonville State sweatshirt with Perrilloux's name and No. 11, a JSU tattoo on his face and a Perrilloux pin given to him by Perrilloux's mother, Barbara Breaux, Eli simply handed his plate of chicken fingers to his parents and eagerly climbed into the hug from the JSU quarterback.
Perrilloux, hurting from six sacks and numerous knockdowns sustained as he led his Gamecocks to a 31-21 homecoming win over Murray State, had already given the same big hug to Eli's mother, Hillary, and a handshake to his father, Chris.
Their presence was the fruits of Perrilloux's summer labor. Since arriving at Jacksonville State, Perrilloux worked to maintain his connection with Eli, an autistic child who also suffers from cerebral palsy and severe asthma. He enlisted the aid of JSU officials to bring Eli to the game.

Jamie Strange, who works with player development at JSU and with the Fellowship of Christian Athletes, proved instrumental in setting things up for Perrilloux and the Touceys. With the help of the J-Club, Strange was able to bring the Touceys to Jacksonville via train.
"I got the contact information of the family and worked on getting them here," Strange said.
Bringing Eli to a Gamecocks game left Perrilloux happy.
"He's a good kid," Perrilloux said of Eli. "When I first met him, I thought he was a good kid and it was a hard thing he was going through."
Eli's mother talks about the ups and downs of having an autistic child, but all Perrilloux sees is a child — a child who smiles as soon as he sees Perrilloux and who is typically placated by anything related to the former LSU quarterback.
"They say he goes through some things, but when he gets around me, he's speaking well and sociable. He's just a little kid," Perrilloux said. "It's fun to know I can always brighten his day with a call or something. I can always say, 'That's my boy Eli.'"
Best medicine
For the last year or so, Perrilloux has proven to be some of the best medicine for Eli, says Hillary Toucey.
The Touceys live in Denham Springs, La., just outside Baton Rouge. Eli surprised his family when he started watching football, particularly LSU football, and quickly his favorite player became Perrilloux. He won a contest that allowed him to meet Perrilloux.
It's not uncommon to see athletes involved with children, particularly special needs children. Perhaps the interesting thing is that Perrilloux, along with his girlfriend, Garelle Blanks, has stayed in touch with the Touceys since that initial meeting last December before the Southeastern Conference Championship game.
"I just took it upon myself to keep in his life," Perrilloux said. "When I got to JSU, I said, 'I'm not going to forget this kid.' He's growing; he's very sociable."
Hillary said there are days with happy Eli, meltdown Eli and destructive Eli, but when things get bad, she tries to redirect his attention to Perrilloux and try to "hang on to a bit of the good."
The hero worship and love Perrilloux sees from Eli leave him wanting to be a positive influence and positive role model. Perrilloux's reputation took a few hits when he was dismissed from LSU earlier this year, and many LSU fans still speak negatively of him.
But that Perrilloux isn't the one Eli sees, nor Hillary and Chris, nor JSU coach Jack Crowe.
"Ryan wasn't here very long before he worked it into an early conversation with me and said he wanted to maintain the relationship," Crowe said. "That gave me insights into the relationship and Ryan. I asked what we could do.
"It speaks to the guy I know. I can give you a list of my private stories that tells me what I need to know about Ryan. The thing with Eli is consistent with what I know."
Added Chris Toucey, "I think this has helped Ryan mature as a man, knowing fans like Eli look up to him."
At halftime, Blanks, holding her and Perrilloux's daughter Ryleigh, and joined by Breaux, came over to the Touceys to introduce themselves. Hillary made sure she told Breaux exactly what she thought of her son.
"He's such a great guy. He's got a great heart," Hillary said. "I told her that. Moms need to hear that."
Perrilloux's daughter, born prematurely, has had health issues. That also makes him feel closer to Eli.
Special trip
During the game, Eli stood against the rails just behind the JSU bench, eyes trained on the field as he took in the first live college football game of his young life. Occasionally, he asked for his red JSU "No. 1" finger. He played games with the police officer down on the field, "tricks" as he'd say.
"I tricked him," Eli would say.
He asked for "Cocky," the Jacksonville State mascot, and went back and forth between enthusiastic high fives and laughing while shyly curling into his mother's side when the mascot arrived to entertain him.
His two-day trip to Jacksonville included dinner with Perrilloux on Friday night, where he was nervous and simply wanted to sit on Perrilloux's lap. Eli also went to the homecoming parade on Saturday and talked to Perrilloux on the field before the Murray State game.
Eli has quickly adapted to Perrilloux's new team, and especially likes that the Gamecocks wear red, one of his favorite colors. He has his parents join in and play "Gamecocks," with each having an assignment that includes passing and catching and knocking down Daddy.
Once Eli learned of Perrilloux's team change, he wanted to see everything he could about the Gamecocks, meaning his mother Googled many JSU images. Hillary anticipates recording JSU's televised game on Thursday for her son.
Avid fan
The Touceys noticed Eli would sit and watch college football games in their entirety. Chris Toucey, a firefighter, is an avid football fan and graduate of the University of Florida.
Chris doesn't consider himself an LSU fan, but he watches the Tigers. According to Hillary, Chris watches college football from "Gameday to SportsCenter" on Saturdays, and Eli apparently has that love of football, as well.
"Sometimes, he seems like he's in his own world, but he's taking everything in," Hillary said.
Last year, Eli won a contest through a Baton Rouge television station as the LSU Tigers' Ultimate Fan. His reward? A chance to meet Perrilloux following an LSU practice. The family took him to the practice facilities and Perrilloux spent time with Eli after the practice, signing shirts and hats for him.
Eli has a favorite game — the 2007 Southeastern Conference Championship game, which, of course, was heavily Perrilloux-flavored. Perrilloux guided the Tigers to the league title, earning MVP honors along the way. Eli has the game DVRed and watches it often, along with a clip the local television station did of Eli meeting Perrilloux — a video that can be found on Youtube.com.
"We watch the video several times a week," Hillary said. "He says, 'Want to see me and Perrilloux.' It makes me cry. He was so happy that day. There were no meltdowns, no anxiety. Just a little boy. It was such a gift to us. Watching the video still brings it out. It's the only time I've ever seen him that happy."
Hillary said Eli's love for Perrilloux developed suddenly.
"He started asking Ryan's mother's name, where he lived, if he had any brothers," Hillary said. "So we started Googling pictures of him. That's just his guy."
On bad days, when Eli is moody or sometimes destructive, his mother often can distract him with photos of Perrilloux.
"Sometimes, his legs get tired. He'll lay down and rest and say, 'Google Perrilloux.'"
Hillary said Eli treats Perrilloux as his imaginary friend, demanding a plate of food for the quarterback, and often clicking him into the seatbelt in the back seat of their vehicle.
Autistic children often find things to latch onto, Hillary said. At first, for Eli, it was spoons. Now, it's Perrilloux.
Hillary said she couldn't think of enough words to thank the people at JSU responsible for bringing her son to the game.
"Everyone here has been so great," Hillary said. "To see my child so happy … when people do something so nice, you can't think of the words to thank them. I just love Ryan Perrilloux to death. He has a huge place in my heart."
And in Eli's, as well.
---
Submit items for news releases by using the request form at www.jsu.edu/newswire/request