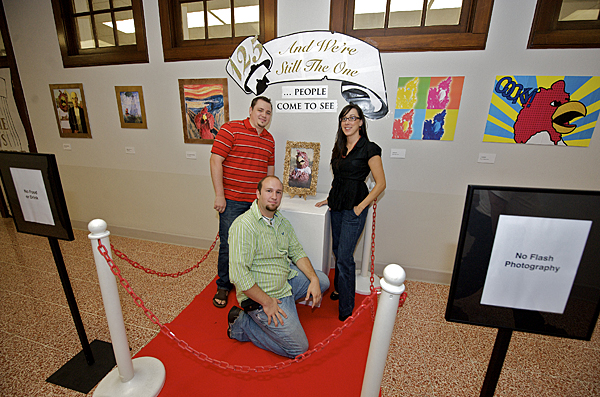 The winner of the best homecoming decorations went to Publications, with their artistic incorporation of the JSU mascot Cocky in their display. Shown are from left, Chris Davis, Graham Lewis and Erin Hill. (JSU/Steve Latham photo)
Homecoming Competition Winners
With another JSU Homecoming now history, here is the list of organizations possessing bragging rights for the next year:
Merchant Window Competition
Winner: Guthrie's

Door Competition
Winners: Office of Publications
Honorable Mention: Registrar's Office

Banner Competition
First Place: Wesley Foundation
Second Place: Freshman Forum
Third Place: Art Alliance

Float Competition
First Place: Delta Chi and Zeta Tau Alpha Fraternity
Second Place: Alpha Omicron Pi and Pi Kappa Phi Fraternity
Third Place: Kappa Sigma and Delta Zeta

Band Competition
First Place: Jacksonville High School
Second Place: Pleasant Valley High School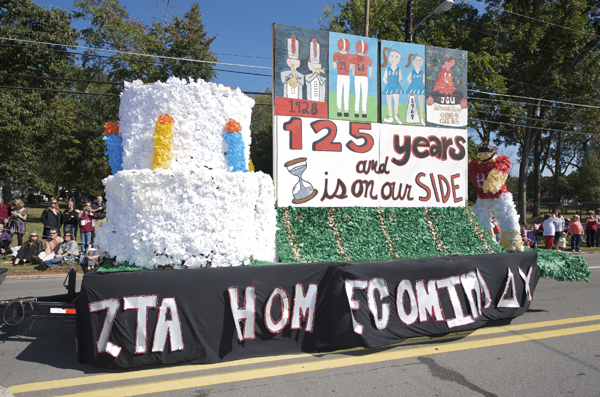 The winner of the best parade float went to Delta Chi and Zeta Tau Alpha. (JSU/Steve Latham photo)
Ashley Gray, Homecoming Queen. (JSU/Angie Finley photo)
For more parade images, click here.
Continue to monitor the News Wire for more homecoming highlights!
---
Submit items for news releases by using the request form at www.jsu.edu/newswire/request