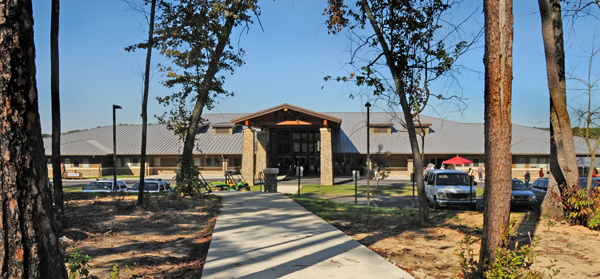 JSU's New Canyon Center has
Successful "Sneak Preview" Weekend
More than 700 visitors turned out on Sunday, October 19 for a sneak preview of JSU's new $7 million Canyon Center, new home to the Little River Canyon Field School and the National Park Service ranger headquarters for Little River Canyon National Preserve, which will have its official grand opening in late February 2009. The four-hour "Canyon Fest" event featuring tours, music and crafts was a celebration set in the middle of an eventful weekend that began with Congressman Robert Aderholt's Agriculture and Industry tour and luncheon on Friday, a visit from Senator Jeff Sessions on Saturday, and concluded with the JSU Board of Trustees meeting at the Center on Monday.
The Center is the product of decades of planning and work, and exhibits "unprecedented partnership" of Federal, State, and local support, according to Pete Conroy, director of JSU's Environmental Policy and Information Center. As a result of the weekend's activities, the Center has made headlines regionally during the past week, including a front-page article and photo gallery in the Birmingham News.
According to Conroy, the next major Canyon Center event will be the facility's Grand Opening in late February 2009. On Saturday, February 21, JSU will celebrate the success of its Capital Campaign and JSU's 125th anniversary at the Canyon Center. This elegant "ribbon cutting" event will be by invitation to all who have given to the "Power of 125... Join the Celebration" Capital Campaign, according to Conroy. Those interested in supporting the Center with a donation may visit the JSU Foundation giving website and click the "designation" link to find "Little River Canyon Center" as well as other important JSU programs. On Sunday, February 22, 2009, the public will be invited to a spectacular "Grand Opening" at the Center with more great tours, programs, presentations, music, food and artists.

"While the Canyon Center's future remains bright, its beginning has been both humbling and energizing," Conroy said.
"Thanks again to all of those who have made this project come to life through labor, funds, time and support."
Below are some highlights from the October 19 sneak preview. All photos are by Angie Finley.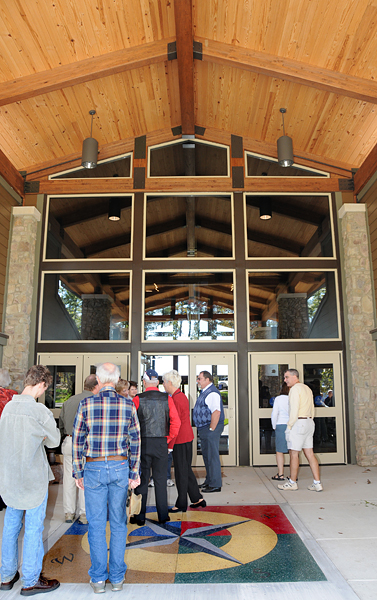 Visitors gather outside the main entrance to the Canyon Center, which features a compass.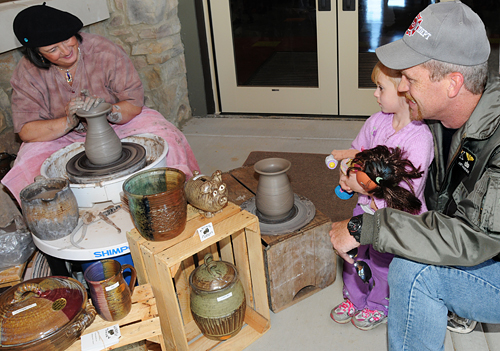 Potter Valinda Miracle of Valley Head demonstrates her craft to Alyssa Johnson, 4, and her father, Chuck Blair, of Fort Payne. Alyssa is also the daughter of Darlean Blair.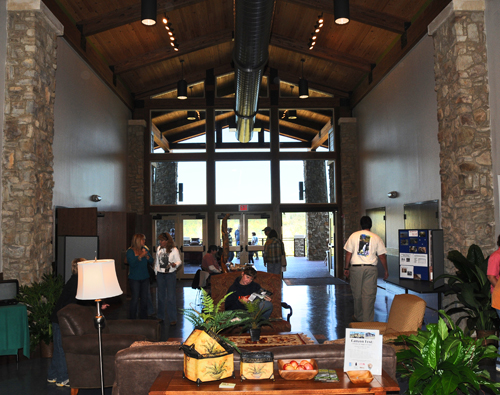 Visitors relax and visit in the main lobby of the Canyon Center during Sunday's Canyon Fest.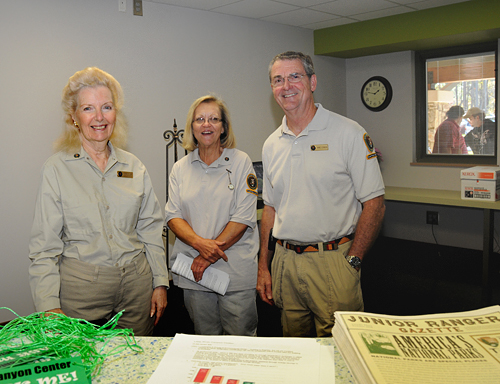 National Park Service employees (from left) Barbara Williams, Bonnie Smith and Mike O'Brien greet visitors at the information desk just inside the entrance. The Canyon Center is a "green" facility and features recycled products and technologically sophisticated systems designed to offer maximum use with minimal energy consumption. One example of recycling is visible in this photo-- the countertop in the foreground was created using crushed soda bottles.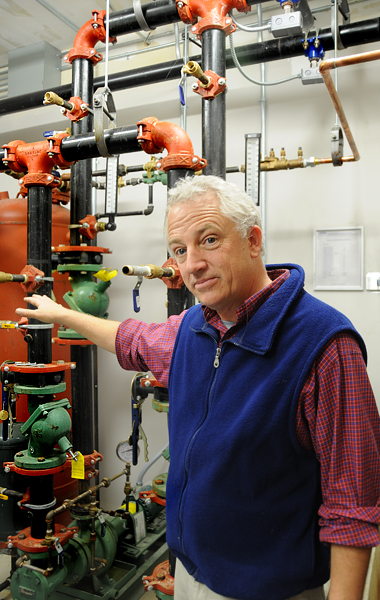 .

In addition to features such as sensors that control lights and temperature in each room, the Center features a state-of-the-art continuous closed loop geothermal heating and cooling system. Here, JSU EPIC Director Pete Conroy shows visitors the system, which will save the center $20,000 a year in energy costs. (For more earth-friendly features, see the bottom of the page)




One of the most beautiful rooms at the Canyon Center is the Library. According to Conroy, the library was made possible by a generous donation from retired JSU biology department head Bill Bowen, who contributed all the books in the library.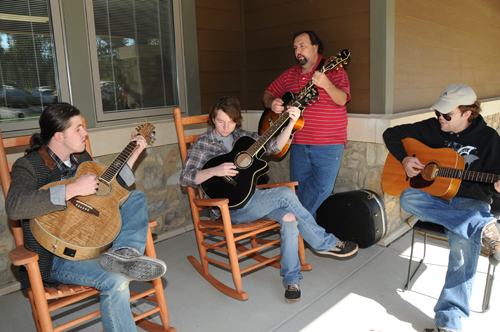 Visitors at "Canyon Fest" were treated to the music of Electric Voodoo.




A National Park Service hat rests on the counter while visitors take the Canyon Center tour.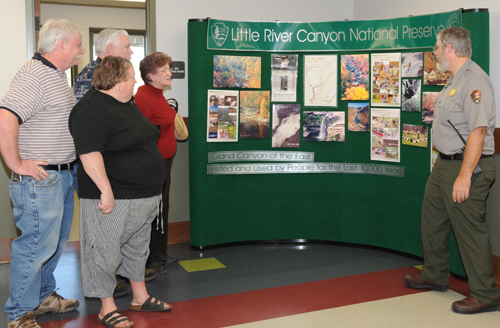 A National Park Service guide shows visitors some of Little River Canyon's natural wonders.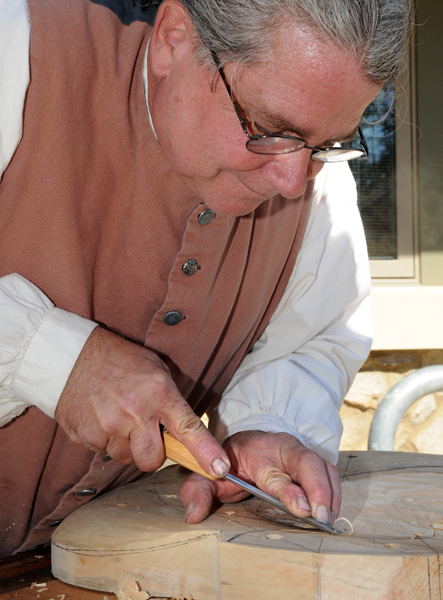 Wil Henry Cobble III of Fort Payne's Singing Trees Studio hand carves the seat to one of his Winsor chairs during "Canyon Fest." The event featured a variety of artists including potters, a blacksmith, a chainsaw carver and woodworkers.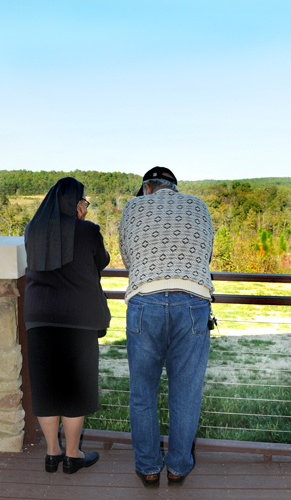 Visitors pause to enjoy the view off the back deck of the Canyon Center.

---
Facts and Features About Little River Canyon Center:
Facility is 23,000 square feet
100 outdoor recreation/environmental education programs conducted each year from Canyon Center.
LEED= Leadership in Energy and Environmental Design-- The Center is reigstered, but will not be eligible for LEED Silver certification until six months after the building is occupied.
Heating and Cooling System- Continuous Closed Loop System consisting of 36 geothermal wells, each of which is 300 feet deep, providing enough temperature exchange to offset heating and cooling resources. The system takes the fluid down to 57 degrees, which helps regulate temps both summer and winter. The loops are connected to pumps in the building; by the time it reaches the coils it is 64 degrees, then heat or cool is added to achieve the desired temperature. Installaion of this system added $105,000 to the project; however, it should pay for itself in 8-10 years due to an estimated $20,000/year in energy savings.
Each room has lighting/occupancy motion sensors that turn lights off and on.
Carbon dioxide sensors (for temperature control) in rooms will keep rooms at a minimal temperature level, but that will change automatically if a room becomes occupied.
Restrooms at the facility feature waterless urinals and high power handblowers.
Decking around the Center is made of recycled materials (pop bottles). Floor mats are made of recycled materials and remove particles from shoes, which can affect air quality. The siding is masonite, which has recycled content in the concrete. Counter tops are made of recycled glass. Fake stone at the Center are made from 20% recycled content (concrete) and were made in Dublin, Georgia, a local source, which saved transportation costs.
Insulation at the Canyon Center is a cellulose material made from recycled newspaper. It was blown into the exterior walls and ceiling to fill all voids around the electrical boxes and provide a much greater thermal barrier. Because of the process used to manufacture the material, there is no off-gassing.
Pavement with dispersed parking-- the shade trees were left in the parking lot so that the parking lot does not become a heat island. The asphalt also contains recycled material so it is more porous than normal, and prime parking places will be designated for energy efficient vehicles.
Trees that were cut during construction were used for mulch in the landscaping. All construction waste was sorted for recycling.
Rooms use day-lighting (LEED points for day-lighting and views)
The roof of the Center is highly reflective so it does not create a heat island. The building is oriented so that the bulk of the windows face north or south for consistent light and temperature. East and West windows can have a large variation in heat and light; there are very few east/west windows. The building also has a low profile that fits the landscape.
Thirty-five percent of the building materials used in the Center were manufactured locally including wood framing, concrete, manufactured stone, siding and many interior finishes.
All materials used had zero VOCs (volatile organic compounds) so there was no off-gassing. VOCs are organic chemical compounds that have high enough vapor pressures under normal conditions to significantly vaporize and enter the atmosphere-- including floor wax, paints, finishes, cleaning products, etc.
A water catchment system will be added later.
---
Submit items for news releases by using the request form at www.jsu.edu/newswire/request