Coverage of the Chief Ladiga,
Silver Comet Trail Connection Ceremony
(The following article is reprinted in its entirety from The Anniston Star)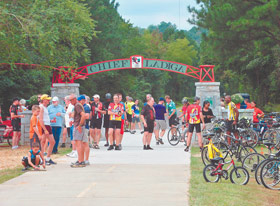 Residents of Alabama and Georgia gathered at the state line
Saturday to celebrate the completion of the connection
linking Georgia's Silver Comet to Alabama's Chief Ladiga
Ladiga Trail. Photo: Bill Wilson/The Anniston Star

Linked at last: Alabama, Georgia residents
celebrate trail connection
By Dan Whisenhunt
Staff Writer
09-28-2008
ESOM HILL, Ga.– Before University of Alabama and University of Georgia fans could start fighting over their football game Saturday, they had to tie the knot.

Lula Mae "Granny" Porter officiated. She is 95 years old – a year for every mile of Chief Ladiga and Silver Comet Trails, a 95-1/2-mile path connecting Smyrna, Ga., and Anniston.

Saturday, residents of both states celebrated the completion of a connection linking the two trails. It was an event filled with the picking sounds of bluegrass music and the zipping of bicycle tires along the paved path.

The two paths were made possible in-part by the Rails-to-Trails Conservancy, a nonprofit based in Washington D.C. that helps convert old rail lines for pedestrian uses. According to Grey Brennan, a regional director and marketing manager for the Alabama Tourism Department, it's the longest paved trail of its type in the United States.

During the ceremony, Porter straddled the two trails as children brought strands of ribbon from either end for her to tie. Her house sits on the state line between Alabama and Georgia. She often sits on her front porch and waves to riders as they pass by, she said.

"Sometimes they stop and talk to me," she said of the tourists passing by her home. "It's great."

Calhoun County Chamber of Commerce President Sherri Sumners said she is relieved she can tell people the connection is finished.

"Before, we could say, 'kind of,'" Sumners said.

The trail stops in Anniston at Michael Tucker Park. Plans would eventually end the trail at Anniston's historic Fourth Street train station and include a spur going to McClellan.

Pete Conroy, an employee of Jacksonville State University and chairman of the Calhoun County Recreational Trails Board, said there was some confusion about where Anniston stands on the rest of the project. City Manager George Monk said the city is still working through it.

"The City Council authorized (the city attorney) the other day to write the Southern Transportation Board and we're still talking with Norfolk Southern to acquire the corridor into Anniston," Monk said.

Diane Loupe, a member of Team Geek cycling team which has about a dozen riders, planned to ride into Anniston Saturday. Before the completion of the connection, team members made the trip from Georgia into Alabama using back roads.

Riders Robert Kriner and Brian Tate of Georgia rode their bikes to the state line Saturday. Kriner said he plans to eventually make the trip all the way into Anniston. He said the scenery and paving add up to a great cycling trail.

Sumners and others hope trail tourism will be a boost for Calhoun County. "We feel like the more we promote the trail, the better off we'll be," Sumners said.


Additional Media Coverage:
From the Birmingham News: Paved Bike Trail From Atlanta to Anniston Opens Saturday
From the Jacksonville News: Large Crowd Turns Out for Celebration
From the Rome News-Tribune: Not Quite End of the Trail
Below is video of the Completion Ceremony shared on YouTube.com by user kjfitzgerald593:


---
Submit items for news releases by using the request form at www.jsu.edu/newswire/request