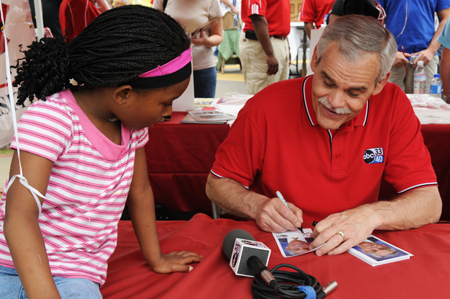 ABC 33/40 anchor Dave Baird signs an autograph for a young fan at the JSU tent
at Mountain Echoes. (JSU/Angie Finley photo)


Highlights from Mountain Echoes 2008
Jacksonville State University was well represented at the annual Mountain Echoes Festival on September 27, 2008 in downtown Jacksonville. More than 50 JSU students, faculty and staff volunteered at the annual craft show, which is sponsored by the Jacksonville Merchants Association.

Thanks to all our volunteers from the ROTC who transported and set up tents, tables and chairs; the Student Government Association, JSU Ambassadors, cheerleaders and JSU Greek Organizations who worked hard throughout the day; the departments that donated their resources to keep the university's booth well-stocked; and Cocky, who kept the crowds entertained! Thanks also go out to the crew from ABC 33/40 in Birmingham, especially anchor Dave Baird, who greeted fans and signed autographs at the JSU tent.
For more photo highlights of the day, visit JSU's Mountain Echoes 2008 Photo Set on flickr.com.





---
Submit items for news releases by using the request form at www.jsu.edu/newswire/request