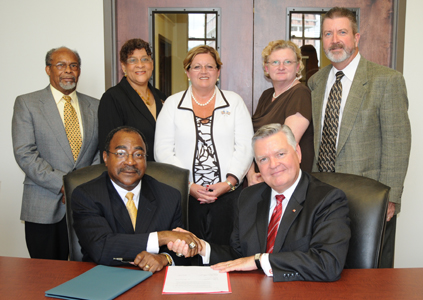 Sealing the agreement with their signatures and handshake were Dr. Chris Jefferies, provost of Talladega College (front row left); and Dr. William Meehan, president of Jacksonville State University. Witnessing the event were (back row, from left): Dr. Charlie Stinson, dean, division of science and mathematics, Talladega College; Ms. Gladys Swain, nursing advisor, Talladega College; Dr. Rebecca Turner, vice president, academic and student affairs, JSU; Dr. Phyllis Waits, assistant professor of nursing and director of the STEP program, JSU; and Mr. David Hofland, director of nursing student services, JSU. (JSU photo by Angie Finley)
Jacksonville State, Talladega College
Renew Dual Degree Partnership
A successful partnership between Jacksonville State University and Talladega College that enables nursing students to earn two degrees in five years has been given the green light to continue, after leaders from both schools met last week to renew the deal.
JSU President Dr. William A. Meehan and Talladega College Provost Dr. Chris Jefferies met on Thursday, September 11, in Bibb Graves Hall on the JSU campus to complete the signing of the dual degree agreement, which has enabled more than 30 students to earn bachelor's degrees.
Also representing Talladega College at the signing of the memorandum of agreement were Dr. Charlie Stinson, dean of the division of natural science and mathematics; and Ms. Gladys Swain, nursing advisor and the school's liaison for the dual degree program. JSU was represented by Dr. Rebecca Turner, vice president for academic and student affairs; Dr. Phyllis Waits, assistant professor of nursing and director of the Strategic Teaching for Enhanced Professional Preparation (STEP) program; and Mr. David Hofland, director of nursing student services and dual degree program liaison for JSU.
According to Ms. Swain, students who have taken three years' worth of prerequisites at Talladega College may matriculate at JSU for an additional year, at which time they become eligible to receive the Bachelor of Arts in biology from Talladega while continuing to work on the Bachelor of Science in nursing from JSU.
As part of the agreement, each school must maintain standards of excellence that support ongoing accreditation from the Southern Association of Colleges and Schools (SACS), and designated representatives from the schools also must confer annually to evaluate the program and review the agreement. Each party has specific responsibilities unique to its role.
While JSU provides the upper division core of the nursing major, Talladega College furnishes the core curriculum prerequisites for the upper division of nursing at JSU and the first two or three years of prerequisite requirements for students to pursue the Bachelor of Science degree at JSU. Both universities are required to provide a liaison and to offer opportunities for faculty and students to attend mutually selected professional research conferences and other educational experiences.
At one time, JSU and Talladega College had a similar agreement for the ROTC program. Following Thursday's signing, the school leaders suggested that it could be time to revisit past alliances and perhaps look for additional programs that could benefit from dual degree partnerships.
"Let's continue the conversation," Meehan told Jefferies as the two parted.
"We're better when we do things together."
---
Submit items for news releases by using the request form at www.jsu.edu/newswire/request