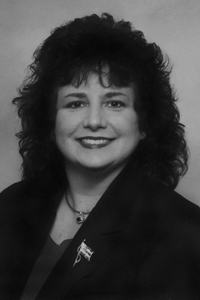 Dr. Lori J. Owens, '93
Centre, Ala.
Outstanding Faculty Member
of the Year
After graduating with honors from JSU in 1993, she earned a Master's degree in political science from the University of Alabama, where she later obtained her doctorate in political science with an outside minor in U.S. constitutional history in 2001. Dr. Owens serves on the Alabama Women's Commission and is an academic associ-ate for The Atlantic Council.
At JSU, Dr. Owens has served two terms on the Faculty Senate and currently serves on the Political Relations Committee at JSU. She is also the advisor for pre-law students and the Pre-Law Society, the Political Science Model Arab League Debate Team and the College Republicans, along with supervising all undergraduate internships.
She teaches in the fields of American Government and Global Issues, including courses related to the federal judiciary, law, Southern politics, state and local govern-ment, the Middle East and foreign policy.
A book authored by Dr. Owens, Original Intent and the Struggle for the Supreme Court: The Politics of Judicial Appointments, was published by The Edwin Mellen Press in December 2005.
In addition to teaching and researching, Dr. Owens was elected to serve as chair of the Board of Directors of the Alabama Higher Education Partnership. Executive Director of the Higher Education Partnership Gordon Stone called her a visionary leader for the organization and a tireless advocate for the concerns of faculty, staff and students, men-tioning that Dr. Owens has been responsible for bringing 100 students each year to par-ticipate in the Higher Education Day rally.
Kay Ivey, Alabama State Treasurer, said that while many individuals are involved in as many activities as Dr. Owens, few are as able to demonstrate effectiveness in so many areas and called her a true complement to JSU.
---
Submit items for news releases by using the request form at www.jsu.edu/newswire/request