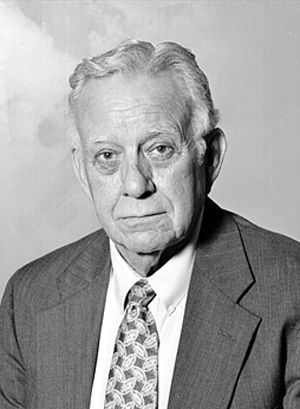 Former Trustee James Thornton, Jr.
Dead at Age 78

JSU lost a treasured friend and loyal supporter on December 4, 2008 when James Day Thornton, Jr. died at the age of 78. Thornton, of Huntsville, served on the university's Board of Trustees for 37 years and was president of Wikle, Thornton, Holcombe Insurance Co. He was also a past president of the Huntsville Chamber of Commerce and a founding member of the Bank of Huntsville.
Upon hearing of his death, JSU President Dr. Bill Meehan said, "After nearly four decades of service on the JSU Board of Trustees, Jim Thornton became an institution in his own right. Over the course of his service, the decisions he participated in helped chart the course for JSU as we know it today. Our deepest sympathies go to his wife, Brenda, and their children and grandchildren."
In addition to his wife, Brenda D. Thornton, Thornton is survived by: daughters, Kathy Lockridge, Beth Vest and husband Phillip and Rebecca Sanders and husband Huff; sons, Jimmy Thornton and wife Esther and Les Thornton and wife Lorri; grandchildren, Iris Lockridge, Louis and Katie Vest, Garrett and Riley Thornton, Huffman Sanders, and James Thornton IV, all of Huntsville; nieces, Liz Ballweg and Tricia Wagers of Stilwell, Kan., Stella McPhillips of Mobile, and Mary Grace of Boulder, Colo.; nephew, John Grace, and wife Jill of Huntsville; five great-nieces; and four great-nephews. He was preceded in death by his parents, James D. Thornton and Elizabeth Bryant Thornton, and sisters, Katherine T. Wallace and Betty T. Grace.
In addition to Thornton's professional affiliations, he was a board member for the Huntsville Y.M.C.A. and was a charter member of Covenant Presbyterian Church. He attended Huntsville city schools and graduated from Columbia Military Academy and later from Auburn University, where he was a member of Sigma Nu fraternity.
He is buried at Maple Hill Cemetery in Huntsville. In lieu of flowers, memorials may be made to Hospice Family Care, 3304 Westmill Drive, Huntsville, AL 35805 or a charity of your choice.
(Note: Portions of this obituary originally appeared in the December 5, 2008 edition of the Huntsville Times)