Kristie Osborne, Miss JSU 2009 (Steve Latham/JSU photo)
Kristie Osborne is New Miss JSU

Kristie Osborne, a sophomore marine biology major from Hartselle, was crowned Miss JSU 2009 on Friday, January 9, at the 27th annual Jacksonville State University Scholarship Pageant in Leone Cole Auditorium.
Nine JSU women competed for the title. The winner was crowned by Lauren Moon, Miss JSU 2008. Runners up to the new Miss JSU are Whitney Curtis, a sophomore music education major from Talladega; and Kendal Beverly, a freshman political science/pre-law major from Oxford.
Pageant contestants were judged on evening wear, swimsuit, talent and interview. For her talent, Ms. Osborne performed a jazz dance and tumble routine. Ms. Curtis' talent was classical piano, and Ms. Beverly's talent was contemporary ballet en pointe.
The Miss JSU Scholarship Pageant is a preliminary pageant for the Miss Alabama Scholarship Pageant, which will take place in June. The winner of Miss Alabama goes on to the Miss America pageant. The Miss America Organization provides millions of dollars in scholarships each year at the local, state and national levels, according to Mardracus Russell, director of the Miss JSU Scholarship Pageant.
Jacksonville State University has been represented well at the national level. Heather Whitestone McCallum was crowned Miss America in 1995, and Teresa Cheatham Stricklin was first runner-up to Miss America in 1979.
Other Miss Alabamas who hailed from JSU include Ceil Jenkins Snow, 1971; Jane Rice Holloway, 1973; Julie Houston Elmer, 1977; Tammy Little Haynes, 1984; and Jamie Langley, 2007.
Along with the Miss JSU 2009 crown, Ms. Osborne received a one-year tuition scholarship, $1,000, and more than 25 additional prizes.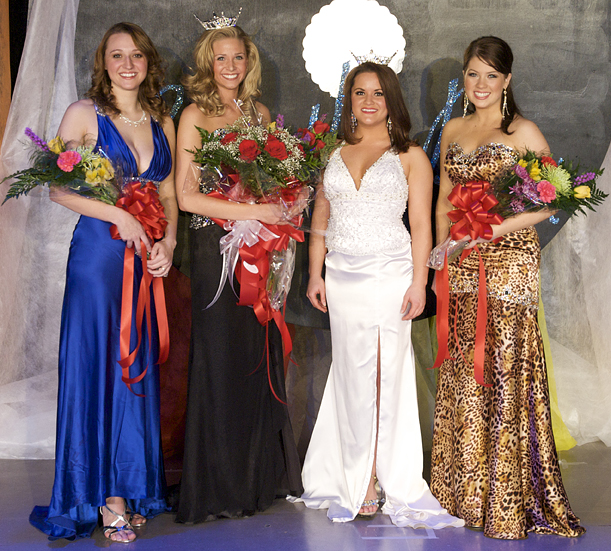 Miss JSU 2008 Lauren Moon, second from right, poses with the newly crowned Miss JSU 2009, Kristie Osborne, second from left, after the January 9 pageant at Leone Cole Auditorium. Also shown are runners-up Whitney Curtis (left) and Kendal Beverly (right). (Steve Latham/JSU photo)