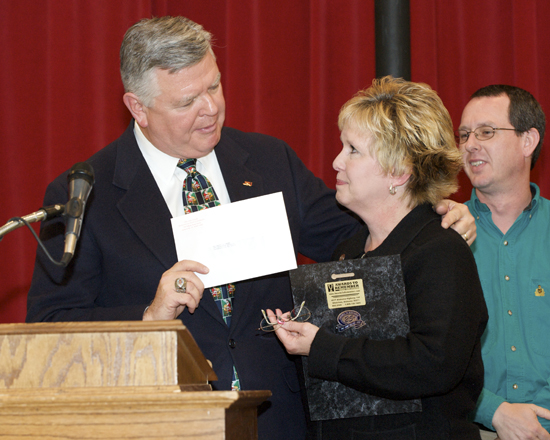 Jacksonville State University President Dr. William A. Meehan, left, congratulates Cathy Rose and presents her with a plaque and $500 check upon her announcement as JSU Employee of the Year.
Cathy Rose Named JSU Employee of Year

Cathy Rose, secretary to the associate vice president for academic affairs, was announced as the 2008 JSU Employee of the Year on December 22 at the annual holiday luncheon at Leone Cole Auditorium. Ms. Rose, who has been a university employee since October 1987, automatically qualified for the honor when she was selected as the JSU Employee of the Month in May 2008.
JSU also recognized the other 11 2008 Employees of the Months at the luncheon and presented service pins to employees with 10, 15, 20, 25 and 30 years of service. For a photo slideshow of all the recipients, please visit JSU's flickr photostream.