Obituaries

CLARK
Funeral services for Ms. LaQuinta Kenyata "Yata" Clark, 23, of Oxford, Ala., were held Saturday, September 30, 2006 at 2 p.m. at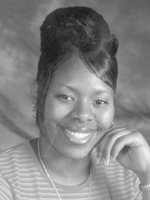 Word Alive International Outreach with Pastor Kent Maddox officiating. Burial was at Maple Grove Cemetery on Hwy. 431 with Ervin Funeral Chapel in charge. Ms. Clark died Friday, September 22, 2006. She was a graduate of Oxford High School, Class of 2001 and continued her education at Jacksonville State University with a major in Criminal Justice. At an early age, she was baptized at New Hope Baptist Church with the Rev. Judge L. Stringer as her pastor. She was an active member at New Hope Baptist Church. She attended Sunday school, usher board and a member of the choir. Later, she joined and rededicated her life at Word Alive International Outreach, where she was a dedicated and active member. LaQuinta was also an employee at Wal-Mart Supercenter Store (809) in the 1-hour photo for seven years. LaQuinta always carried a smile on her face everywhere she went. Her motto in high school was "Never let yesterday's disappointments over-shadow tomorrow's dreams." She is survived by her parents, Mr. and Mrs. John, Sr. and Teresa Clark; one brother, John, Jr.; her grandparents, Mrs. Lorene Borsh, of Hobson City, Ala., Mr. and Mrs. Jeffery and Beulah Clark, of Anniston, Ala.; several aunts, great aunts, uncles, cousins and friends; a very special friend, Frederick Ammons, Jr.; long-term friends, Sharita Andrews, Kelvin Foster, Shala Jackson, Lindsey Boddie, Kesiha Heard, Jeana Hanna, Jennifer Weeks and Jasmine Whatley.
GRANT
Lynnette Ashley Grant was born in Jacksonville, Ala,. on September 9, 1988 to Roy and Albertha Grant.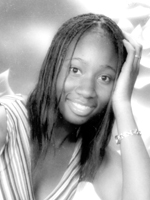 She attended Jacksonville Christian Academy before moving to Camp Zama, Japan, and later to Taegu, Korea. Lynnette returned home in June 2006 to attend Jacksonville State University. Lynnette is survived by her devoted parents, Deacon Roy and Minister Albertha Grant; her brother, Ray Grant (Marie) of Jacksonville, Ala.; two sisters, Latonia Grant (Jeffrie Banks) of Montgomery, Ala., and Janeshua Newkirk (Rodney) of Charleston, S.C.; a grandmother, Evangelist Elizabeth Myers of Emporia, Va.; nine aunts; ten uncles; five nieces, one nephew; a host of cousins; other relatives, and friends all over the world. The funeral service was held Saturday, September 30, 2006 at the Friendship Baptist Church with internment at Anniston Memorial Garden.