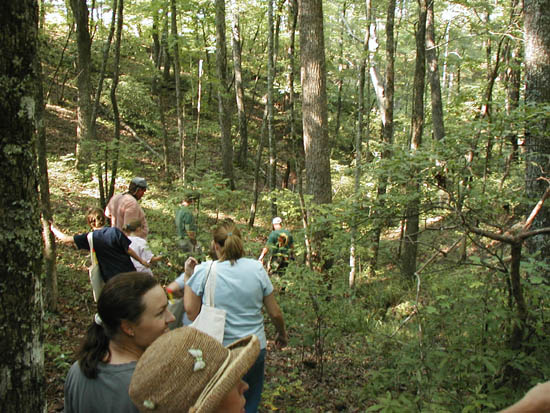 From the Highest Fire Tower to the Deepest Historic Valley

Shoal Creek District Ranger Jeff Gardner and JSU Field Schools Coordinator Renee Morrison led a tour of the Talladega National Forest (TNF) on Saturday, September 16. Participants were shown some of the secret and exclusive areas of the northern portion of the forest, which covers around 125,000 acres of the 400,000 total TNF. The group climbed a historic fire tower, hiked to Zen Rock which overlooks the Choccolocco Mountain range, tasted and smelled of dozens of native medicinal wild plants such as sassafras, sourwood and galax/skunk weed, measured the second largest tulip poplar in the TNF (120" in circumference), enjoyed a picnic at Pine Glen on the Pinhoti Trail, listened to hilarious stories about possums, coon hounds and living in the forest, learned about endangered red-cockaded woodpeckers and nocturnal black bears, visited the primitive log Shoal Creek Church (which has its own website), and handled a friendly hog-nosed snake. The young naturalists participated in a scavenger hunt competition, observed micro-nature through jeweler's loupes, and created deer track casts. A wonderful time was had by all. The TNF Tour is just one of the many programs brought to our area through this partnership between JSU and the USFS.

Upcoming events: next month 140 Kitty Stone Elementary School fifth graders will visit the TNF for an exciting field trip; October 14th at 6:00 p.m. Renee Morrison will be telling Spooky Stories & Rural Legends at the Learning by the Lake Series at Coleman Lake in TNF by the campfire, and on December 2 Renee Morrison and her assistant Haley Conroy will be leading a Winter Dog Hike near the old Pink E. Burns trapper cabin in Rabbittown. For more information, http://fieldschool.jsu.edu or call 256-782-5697.