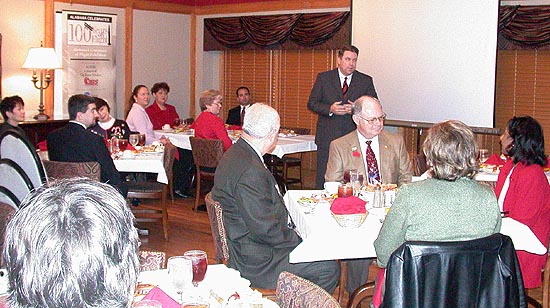 Tim Huddleston explains the von Braun Scholars program during a recent briefing on campus. (Photo by Victoria Oxley, News Bureau)


December 12, 2003 -- Located on the campus of Jacksonville State University is a program aimed at boosting K through 12 students' interest in science: the von Braun Scholars program. Funded by NASA and named for the legendary rocket engineer Dr. Wernher von Braun, the von Braun Scholars program was established to advance math and science learning in K-12 schools.

The von Braun Scholars program was created by the Aerospace Development Center at JSU in partnership with the Alabama Aerospace Teachers' Association and Jacksonville State University.

Originally established by the Alabama Commission on Aerospace Science and Industry as a state aerospace strategic planning office, the Aerospace Development Center later evolved into the commission's program office, developing and managing projects and programs in the areas of aviation and space related academics, economic development, workforce development, and outreach. The Aerospace Development Center is located on the JSU campus. The von Braun Scholars program is the Center's centerpiece education program.

As a von Braun Scholars development partner, Jacksonville State University serves as the fiscal agent for the NASA development grant and provides curriculum content development support. Additionally, JSU will be providing the von Braun Scholars with remote access to its soon to be newly refurbished space observatory. Through a von Braun Scholars program to be called von Braun Observers, K-12 students will be assigned remote access time on the JSU observatory's 14.25" reflecting telescope which will be located atop nearby Chimney Peak. These students will conduct real research looking for undiscovered near earth objects such as asteroids and comets.

The Braun Scholars program uses a unique method it called the Enhanced Thematic Learning Concept, a way of teaching, planning, and organizing the instructional program so that the discrete disciplines of subject matter are related to one another in a design that matches the developmental needs of the learners.

Educators may teach; however, students will choose to learn only if inspired to do so," says von Braun Scholars Principal Investigator, Tim Huddleston.  "By providing educators the means to teach and students the inspiration to learn, the process of education will greatly flourish."

By applying the concept of enhanced thematic learning, the von Braun Scholars uses aviation and space to develop learning materials, activities, projects, and resources designed to challenge and inspire individuals to excel in mathematics, sciences, technologies and the arts.

The von Braun Scholars education program of study is organized into two categories it calls the Individual Learning Experience, and the Classroom Learning Adventure.

The Individual Learning Experience includes programs for both students and educators called My Destiny and ACE respectively. My Destiny is a comprehensive program that provides students with an individualized learning experience, delivered through the Internet. This program offers participants fun, challenging and educational activities in aviation and space, along with access to a host of data, services, resources and other learning tools.

ACE is a professional development program providing K-12 educators with the skills training necessary to utilize aviation and space in the classroom. Delivered through a comprehensive extranet web site, workshops, and an annual conference, ACE training provides educators with the knowledge and skills needed to confidently incorporate aerospace in the classroom as a thematic learning tool.

In the Classroom Learning Adventure category, von Braun Scholars offers the four exciting classroom programs of StarQuest, FlightQuest, GEAR, and ACTION. These programs are packaged together to form the NASA Destiny Classroom.

StarQuest and FlightQuest are hands-on education curriculum programs that energize the classroom with space and aviation-themed lesson plans, activities, and teaching resources packaged into learning units that teach math, science, technology, the arts, and other curriculum disciplines.

GEAR is a comprehensive resource program that provides educators with the teaching resources necessary to implement Braun Scholars programs. GEAR is specially tailored to fit each classroom and its unique challenges. GEAR provides Curriculum kits, a speakers' bureau, and a virtual help desk for educators.

ACTION is a career resource program in which college students schooling in the aerospace disciplines are trained as aerospace career specialists and sent to K-12 classrooms to share aerospace-related career information to students. Known as ACTION Counselors, these college students travel to schools to deliver presentations on aviation and space and the exciting career opportunities available within aerospace industries.

Two types of partners, Development Partners and Community Partners, help to create and fund the von Braun Scholars programs.

The von Braun Scholars development partners are those individuals or organizations that assist in the development of projects, curricula, activities and resources for von Braun Scholars participants. The von Braun Scholars Community Partnership program provides a direct link between students, educators, the local community, and educational stakeholders. One of the most unique aspects of the von Braun Scholars approach is that the Community Partners, local business and civic leaders, provide the funding to pay for classrooms to participate as NASA Destiny Classrooms. No state, federal, school, or educator dollars are used to pay for classroom participation. The primary goal of community partnerships is not just to provide monetary support but to have an active presence in the partnered classrooms as well.

NASA Destiny Classrooms and the von Braun Scholars connect students, educators, administrators, school staff, parents, and community partners together in the learning process, providing a fun and successful learning environment.

For more information please contact Kevin Connell, the Aerospace Center's director of academics, at 782-5972.