JSU Alum & Basketball Standout NcKell Copeland Joins Women's Basketball Coaching Staff
at Bradley University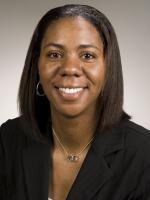 Photo Courtesy of Bradley University.

Reprinted here in its entirety
.
NcKell Copeland Joins Womenís Basketball Coaching Staff
PEORIA, Ill. ó

Former Jacksonville State standout NcKell (pronounced nah-KELL) Copeland has joined the Bradley womenís basketball coaching staff, announced Monday by eighth-year head coach Paula Buscher. Copeland comes to The Hilltop after two years as an assistant coach at Toledo.

Copeland worked with the guards while on the Rocketsí coaching staff and was involved in recruiting, scouting and individual workouts in addition to helping monitor the academic progress of student-athletes. In her first season at Toledo, Danielle Bishop earned honorable mention All-Mid American Conference honors, while TaYani Clark earned MAC All-Tournament honors in 2007-08.

"NcKell is a great addition to our coaching staff and Bradley University," Buscher said. "She is a very positive person with a dynamic personality which helps not only in recruiting but also on the bench. NcKell has had many responsibilities during her young coaching career and will be a valuable asset. She will work primarily with the guards, in addition to her recruiting and scouting duties."

Born in San Jose, Calif., Copelandís family moved to Marietta, Ga., and she later attended Jacksonville State where she graduated cum laude with a degree in communication in 2003. She finished her career as the Gamecocks career leader in steals (151) and also had 456 points and 222 assists during her four-year career. A three-time All-Academic performer, Copeland led the team in minutes, assists and steals during her sophomore season.

She served as an assistant coach and recruiting coordinator at Jacksonville State for three years following her graduation, helping the Gamecocks to an 18-10 record in her first season. The 18 victories is Jacksonville Stateís highest win total as an NCAA Division I member and was the most wins since the 1992-93 team finished with an 18-11 record.

See story at the official site of Bradley University Athletics: www.bubraves.com.


---
Submit items for news releases by using the request form at www.jsu.edu/newswire/request