Study Abroad (Normandy, France)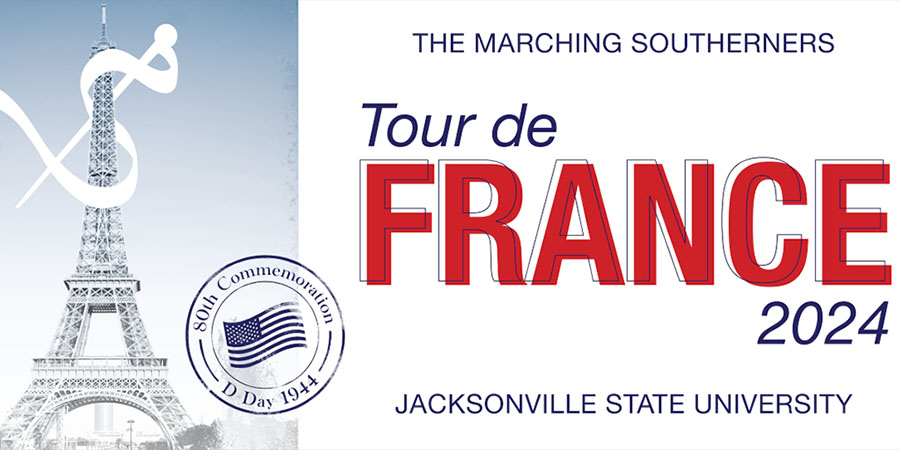 Description
Dr. Ken Bodiford in the College of Arts and Humanities will be offering course credit for the Tour de France 2024. 


Class Credit
Undergraduate students who enroll in the program are eligible to receive 3 hours of credits. Course details will be announced soon. 
Enrollment
Students must enroll with the name listed on their passports.
If you do not have a passport, you must obtain one.  You can find more information on obtaining a passport on the United States Department of State's website:  https://travel.state.gov/content/travel/en/passports.html 
If you wish to enroll, you must notify the Study Abroad Office studyabroad@jsu.edu  
Estimated Cost
| | |
| --- | --- |
| Item | Cost |
| Program Fee – covers airfare, lodging-double occupancy, 6 breakfasts at the hotel, in-country transportation, insurance) | $3,915 |
| Tuition to JSU (3 hours with a 50% discount on instate tuition) | $499.5 |
| University fees | $100 |
| Textbooks | $60 |
| Other Meals (estimated) | $300 |
| Passport (estimated) | $145 |
| Spending Money (estimated)  | $150 |
| ESTIMATED TOTAL | $5,169.5 |
Dates
The program itself runs from June 04- June 11, 2024
JSU Deadline to Enroll
TMF Tours and Travel Deadline to Enroll
https://www.toursandtravelpaytrip.com/reservation 
Final Review by International Travel Risk Committee on April 05, 2024
JSU's International Travel Risk Committee will need to review the destinations designated as Level 3 and Level 4 by the Department of State and/or CDC. Participants-students and faculty leaders are responsible to understand the cancellation and refund policies of the providers. In the event the program gets canceled for the safety and health of the participants, the participants will be responsible for any financial losses. 
Website
Program website:  https://www.jsu.edu/france2024/index.html