Panhellenic Sorority Recruitment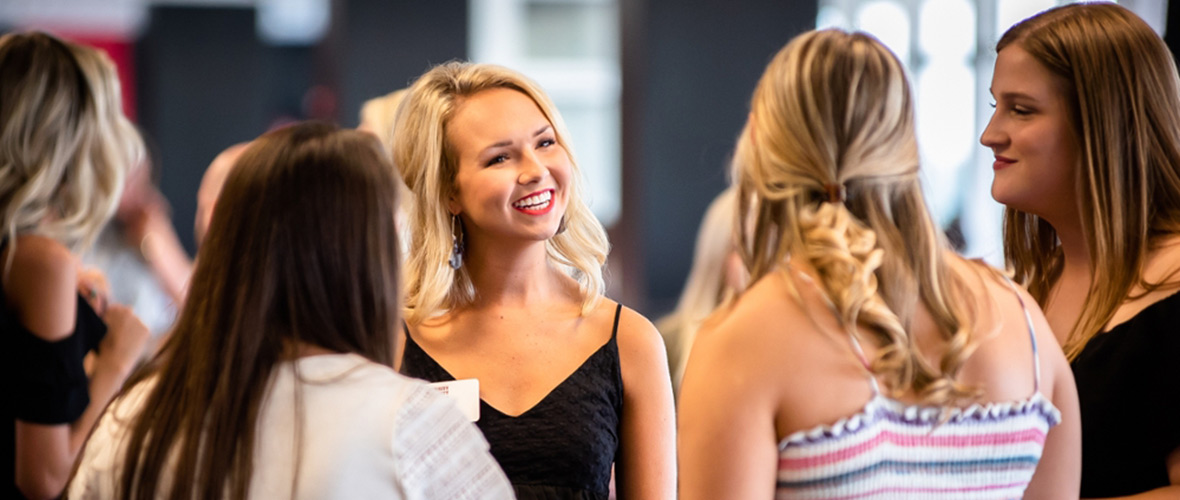 We are exited that you have decided to participate in Panhellenic Sorority Recruitment at JSU! The Panhellenic community connects people beyond their chapter walls. As a collective group of women, we have the power to change the world. Here at Jacksonville State University, we have 5 Panhellenic chapters that are unique, founded on values, and offer you a place to truly call home. This is your time to leave your legacy at Jacksonville State University!
Register For Panhellenic Sorority Recruitment Here! 
Panhellenic Sorority Recruitment Information
What sororities are at Jacksonville State University?
 There are 5 Panhellenic sororities at JSU.  They are Alpha Omicron Pi, Alpha Xi Delta, Delta Zeta, Phi Mu, and Zeta Tau Alpha. 
How do I join a sorority?
Panhellenic sororities have two forms of Recruitment.  Formal Recruitment takes place the week before the start of the fall semester.  Registration is online.  This is the most common recruitment process that most Potential New Members participate in.  Those who become interested at a later time or are not interested in the formal recruitment process may look into organizations who recruit throughout the entirety of the academic year.  Most organizations do not recruit this way, but at times this option does become available to women interested in joining. 
What are recommendations and are they required to participate?
Recommendations are letters from alumnae of a particular sorority, not necessarily those who graduated from JSU, in support of the woman participating in recruitment. JSU Panhellenic Council does not require recommendation letters in order to participate in recruitment. However, if you still prefer to have relatives or other friends send letters on your behalf, they may be sent directly to the organization or to the Dean of students office at JSU. 
I am a legacy to an organization, am I guaranteed a bid?
No, legacies (women who have a relative that is a member of a sorority) are not guaranteed a bid.  Each national organization has their own policies about legacies and that process is administered by the chapters in consultation with their alumnae advisors.
What are the benefits of joining a sorority?
All of our sororities were founded as values-based organizations.  They all share the goals and values of scholarship, philanthropy and service, betterment of an individual and sisterhood.  Sororities can serve as a support system for students and provide opportunities for involvement.  There are a number of leadership positions in Fraternity & Sorority Life through chapter officers and council executive roles, and the experience that students can gain through these organizations and leadership roles can complement the college experience and provide numerous networking opportunities.
What is the best advice you would give a student going through recruitment?
First and foremost, students should be themselves.  Second, go into the process with an open-mind and be willing to consider membership in any of our chapters.  Students are often surprised to learn that chapter stereotypes are not always accurate, and they find great things about all of our organizations.  Three, know your values and what you're looking for in a group, that will help you find the best fit.  Four, get as much rest as you can, eat on a regular basis, and if exercise is part of your daily routine, find some way to fit that in as well.
Can Marching Southerners/Ballerinas participate in Recruitment? 
Absolutely! Because the formal recruitment schedule and the Marching Southerners/Ballerina schedules do conflict, we do our absolute best to work with those women to ensure they get to experience formal recruitment.  Please just let us know on your recruitment application that you are a Marching Southerner/Ballerina and we will have your recruitment counselor explain to you how the formal recruitment process will work for you. 
Tuesday, August 16
PNM Move-In
Wednesday, August 17
PNM/Parent Recruitment Orientation
Thursday, August 18 : Philanthropy Round
During this round you will learn about all five chapters. The round is utilized as a way to acquaint the potential new members with the philanthropic activities of each organization. A t-shirt will be provided for this round. 
Friday, August 19 : Sisterhood & Values Round
The Sisterhood & Values round of recruitment begins to show you a deeper side of the chapter. You will visit up to four chapters during this round for forty minutes each. Women from each chapter will share what it means to be a member of their organization and what they value in their organization and sisterhood. This day is a bit dressier; a sundress is appropriate. 
Saturday, August 20 : Preference Round
The last round of recruitment, Preference is the most formal. Something that you would wear to a wedding would be appropriate. You will visit up to two chapters for sixty minutes. 
Sunday, August 21: Bid Day!
Bid Day! 
Alpha Omicron Pi
Inspire Ambition
Chapter Designation: Delta Epsilon
Symbol: Sheaf of Wheat
Mascot: Panda
Jewel: Ruby
Flower: Jaqueminot Rose
Color: Cardinal Red
National Philanthropy: Arthritis Research
Founding Location: Barnard College, New York, NY
Date Founded Nationally: January 2, 1897
Alpha Xi Delta
Inspiring Women to Realize Their Potential
Chapter Designation: Epsilon Pi
Symbol: Quill
Mascot: Betxi Bear
Jewel: Pearl, Diamond
Flower: Pink Rose
Color: Double Blue and Gold
National Philanthropy: Children experiencing foster care & homelessness
Founding Location: Lombard College, Galesburg, IL
Date Founded Nationally: April 17, 1893
Delta Zeta
Be More. Do More. Care More. 
Chapter Designation: Lambda Gamma
Symbol: Roman Lamp
Mascot: Turtle
Jewel: Diamond
Flower: Pink Killarney Rose
Color: Rose and Green
National Philanthropy: Speech and Hearing, The Painted Turtle 
Founding Location: Miami University, Oxford, OH
Date Founded Nationally: October 24, 1902
Phi Mu
The Faithful Sisters
Chapter Designation: Kappa Sigma
Symbol: Quatrefoil
Mascot: Sir Fidel the Lion
Jewel: N/A
Flower: Rose Carnation
Color: Rose and White
National Philanthropy: Children's Miracle Network Hospitals
Founding Location: Wesleyan College, Macon, GA
Date Founded Nationally: March 4. 1852
Zeta Tau Alpha
Seek the Noblest
Chapter Designation: Zeta Psi
Symbol: 5 Pointed Crown, Strawberry
Mascot: N/A
Jewel: N/A
Flower: White Violet
Color: Turquoise Blue and Steel Gray
National Philanthropy: Breast Cancer Education and Awareness
Founding Location: Longwood University, Farmville, VA
Date Founded Nationally: October 15, 1898