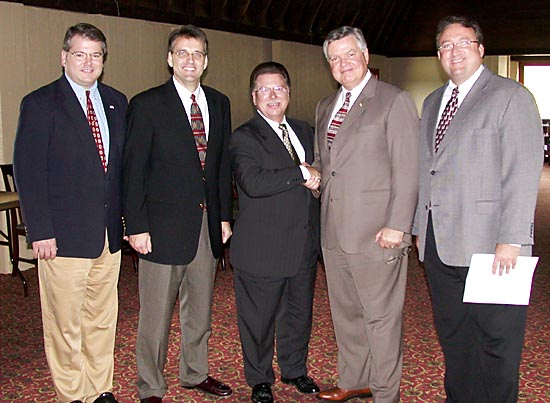 JSU President Bill Meehan, second from right, congratulates WJXS executives on FCC approval of their station license. From left to right are J. Holland, news anchor; Mickey Shadrix, Alabama Heritage Communications partner; Tom Williams, partner; and, far right, Troi Hayes, partner.





Abby Knight
JSU News Bureau

JACKSONVILLE -- October 24, 2002 -- Tom Williams recalls that on October 10th, he was on his way to Louisiana to tape nine episodes of "Big Boyz Toyz" for Jacksonville's WJXS-TV24 when he got the news that the station license had been approved for Alabama Heritage Communications L.L.C. by the Federal Communications Commission (FCC). Williams and the station's other partners were so busy they didn't have time to celebrate.

Two weeks later Williams, along with co-founders Troi Hayes and Mickey Shadrix, got the chance to properly celebrate the news with their advertisers, employees and supporters. The three hosted a special news conference at the Old Henry Barn Restaurant on Thursday, October 24 to officially announce the FCC license transfer.

Alabama Heritage Communications L.L.C. owns and operates TV-24, which is operated out of Jacksonville State University's Self Hall. Williams, Hayes and Shadrix bought it from previous owner Vincent Early and took control of the station this past March.

Their business plan, according to Hayes, was designed "over Mountain Dew" in a Pizza Hut in Attalla. The trio, who had previously worked together at the old Alabama 100 radio station, mapped out a local northeast Alabama station.

According to Hayes, it was "too great an opportunity to pass up."

The station features news and sports programming geared to a Calhoun County audience. Sports coverage focuses on JSU sports as well as local high school sport activities. The station is also an affiliate of Family Net and offers family programming as well.

Also at the press conference, TV-24 introduced its new website, www.tv24.tv . Designed by Web Three Networks, it is an "interactive extension" of TV-24, which offers users free e-mail accounts.

The company also announced plans to move its signal tower from its current location in Oxford to Chimney Peak, one of the highest points in the area. According to Williams, this will extend the tower by 269 feet and increase the power of its signal 13 times.

Alabama Heritage also recognized at the conference who they refer to as their "founding partners," the local businesses that provided financial support during the startup of the station. Those businesses include Buster Miles Ford Mercury, ERA King Realty, Superior Automotive, Quality Pest Control, Sunny King Honda Toyota Mitsubishi and Ford, Ron Newton Pontiac Cadillac GMC and Southeastern Cellular and Paging Company.