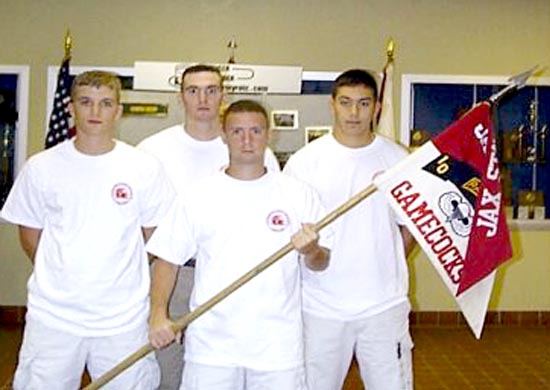 Members of JSU's ROTC ten-miler team, representing the Gamecock Battalion, are, from left, Jonothan Greene, Joe Guthrie, Jonathan St.John, and James Nifong.

Abby Knight
JSU News Bureau

JACKSONVILLE -- October 14, 2002 -- Ten miles. That's 17,600 yards. 52800 feet. Over Washington DC's Memorial Bridge, past the Lincoln Memorial, onto Independence Avenue. Along the length of the Reflecting Pool, past the Washington Monument, The Smithsonian Castle, The Air and Space Museum.... It's certain to be breathtaking, no pun intended.

It is 10 miles through historic landscapes, past buildings where history is stored and the future is made. For four men from Jacksonville State University's Reserve Officer Training Corp, it is ten miles they intend to conquer.

Representing JSU's "Gamecock Battalion," the team, led by Joe Guthrie, represents just four of the expected 18,000 runners who have registered for the 18th Annual Army 10-Miler to be run on October 20th on the streets of Washington D.C. The prestigious road race features a competition with more than 330 military teams, including the active Army, Army reserve, National Guard, military retirees, cadets, Department of Defense civilian employees, industry partners and patriotic citizens.

Along with Guthrie, the team members are Jonathan St. John, a sophomore in business economics from Anniston, James Nifong, a sophomore in criminal justice from Weaver and Jonothan Greene, a freshman in criminal justice from Newport News, Virginia. The team raised funds and co-sponsors stepped in to help -- JSU's Student Government Association and the JSU ROTC Alumni Chapter.

"The chapter is honored to join with the JSU SGA as co-sponsors of the Gamecock Battalion Army Ten Miler team and to send them to Washington D.C. to run in the Army's premier athletic event that captures the Spirit of America, " said Lieutenant Colonel (retired) Bruce Pickett, JSU ROTC alumni chapter vice president.

The team trained with members of the Anniston Runners Club to help master the proper techniques needed for distance running.

The race will be the climax of a three-day stay in the Washington D.C. area, where the team will be staying with JSU alumni. The three days will include some sightseeing. Only Greene has spent time in the area before. Among sites the team hopes to see are the Pentagon and the Vietnam Memorial.

Nifong is the only one who has competed in a distance event prior to this. He completed the San Diego Marathon last June.

St John, Nifong and Greene are also training for the Ranger Challenge, an ROTC event that will be held the weekend following their return from D.C.