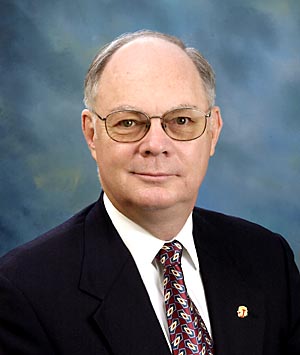 Joe Serviss

JACKSONVILLE -- October 4, 2002 -- Joe Serviss, a Jacksonville State University graduate with more than 30 years of leadership and management experience, has been named by JSU President Bill Meehan as vice president for institutional advancement effective October 14.

Serviss, JSU's director of development and executive director of the JSU Foundation for the past 13 years, assumes the position vacated by Jack Hopper of Gadsden, who retired. Serviss, a Jacksonville resident, will preside over JSU's fund raising, public relations, alumni and related support functions.

President Bill Meehan said, "I'm pleased to announce that our extensive nationwide search confirms that Mr. Serviss is well suited to lead our institution in this demanding position, which will draw upon his considerable experience in fund raising and management. I'm gratified that we're tapping not only an excellent employee but an alumnus who holds two degrees from JSU."

In addition to the office of development, the Division of Institutional Advancement includes the offices of alumni affairs, the news bureau and publications unit, photography, print shop, and word processing.

Serviss, a Sylacauga native, holds a B. S. in general business and an MBA, both from JSU. He is a 1964 graduate of Sylacauga High School.

Serviss was no stranger to higher education even before assuming his development post here in 1989. Eight of his 20 years in the military were served in institutions of higher learning. He worked three years at JSU as an assistant professor of military science and five years at the Armed Forces Staff College, National Defense University, where he ended his military career as chief of the evaluations division.

Serviss has served for the past two years as president of the Alabama Chapter of the Association of Fundraising Professionals. He also serves on the executive board of the 22-county Greater Alabama Council of the Boy Scouts of America.

During Serviss' tenure as director of development, he revitalized the annual fund campaign. The annual "phonathon" increased pledges significantly. Under his leadership, the university's planned giving program and capital campaign made dramatic strides.

"The accomplishment I am most proud of is the growth of the foundation's assets, from less than $3.8 million in 1989 to just under $20 million today, during the time I have served as executive director," Serviss said.

Serviss recalls being asked why, with his qualifications, he desired to return to JSU after his military career. He said, "I believed then, as I do today, that there is no cause more noble than assisting my university in raising critically needed funds and serving as its goodwill ambassador."

Serviss is married to the former Carolyn Harris of Gadsden, a high school teacher and former JSU Teacher Hall of Fame winner. The Servisses have one adult son, Emory R. of Birmingham. Serviss and his wife and son are JSU graduates, along with his brother, sister, sister-in-law and a neice.