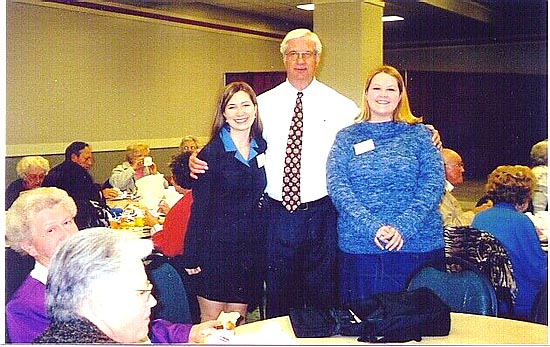 JSU students Amy Phillips and Ashley Maddox with Franklin McGee.




December 4, 2002 -- On November 19th, 2002, approximately 140 senior citizens from senior centers all over Calhoun County gathered at the Anniston City Meeting Center to play some bingo. Amy Phillips and Ashley Maddox are JSU senior social work students completing their semester long field internship with the East Alabama Area Agency on Aging. As a final project prior to graduation, these two students coordinated an event designed to provide a group of senior citizens in Calhoun County an opportunity to come together for fun and fellowship.

Many individuals and organizations provided assistance along the way. The space for conducting this activity was donated by the Anniston City Meeting Center. All 76 of the prizes for the event were donated by area businesses including Wal-Mart of Oxford, Mata's Restaurant, Gregerson's of Piedmont, Classic On Noble, Joy Christian Store, Cost Cutters, Heavenly Hair Salon, The Gazebo Tea Room, Lynn's Hallmark, Rocket Drive-in, Backyard Burgers, Stewart's of Jacksonville, Family Christian Store, Betty's BBQ, Dad's BBQ, Crow Drugs, Roma's, Anniston Fitness Center, Alabama Tan, McDonald's of Jacksonville, Burger King, Ci Ci's Pizza, and Captain D's.

Franklin McGee graciously volunteered for the job of bingo caller. Area Agency on Aging staff members Belva Roberson and Jean Reigner assisted in the project and arranged for lunches to be delivered and served at the meeting center. The bingo supplies were borrowed from the Anniston-Carver Senior Center and Carter Jones from the Jacksonville Senior Center was the bingo advisor. Additional volunteers for the Bingo event included Matt Wiram and Beth Phillips.

The Area Agency on Aging is housed within the East Alabama Regional Planning and Development Commission in Anniston and provides a wide variety of programs and services for the aging community in a 10-county region that includes Calhoun, Chambers, Cherokee, Clay, Cleburne, Coosa, Etowah, Randolph, Talladega, and Tallapoosa.