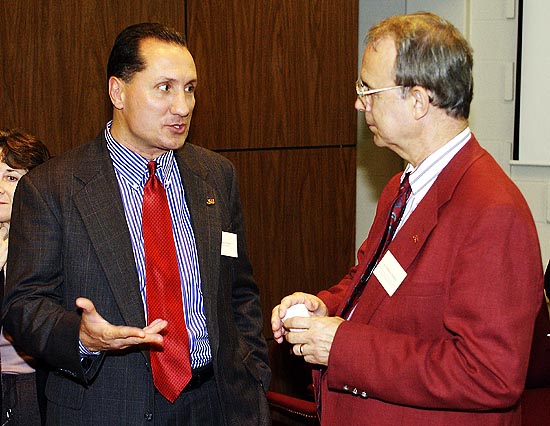 Participating in the discussion are, from left, panelist Dave Upton, president of Gazelle Consulting, and Dr. William "Bill" Fielding, Acting Vice President of Business and Administrative Affairs.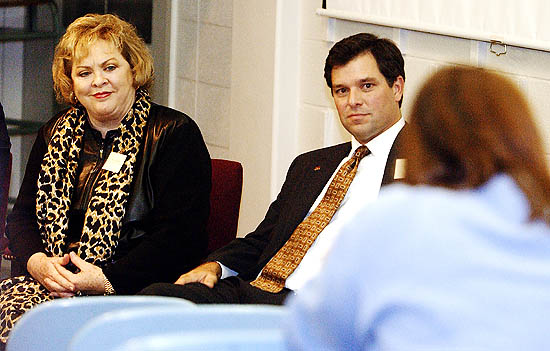 Panelist members, from left, Kay Savage and Keith Nix respond to comments from the audience members.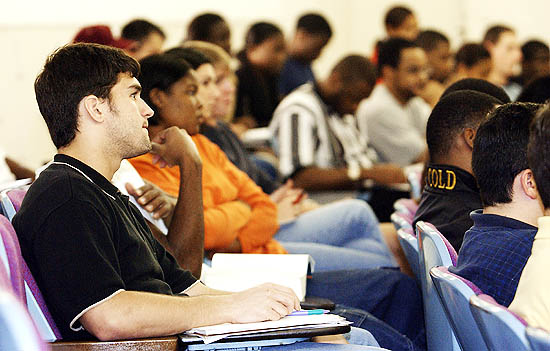 Members of the audience listen intently to advice from panelists.






Abby Knight
JSU News Bureau

October 31, 2002 -- An audience of Jacksonville State University students were presented a few "secrets" for success during a panel discussion hosted recently by Career Placement Services.

"Secrets for Success" was moderated by JSU Alumnus Shane McGriff of Macquarium Intelligent Communication. McGriff is a 1991 graduate of JSU and was JSU Young Alumnus of the Year in 1998.

Janet White, director of JSU Career Placement Services, opened the forum with a brief introduction of the members of the panel and her thoughts on why the panel was formed.

"King Solomon wrote, 'If an axe is dull and you do not sharpen the edge, it will take more strength," White quoted. She compared student attendance to the seminar to the act of sharpening the axe.

"Having the edge (in job searching) is wisdom, and without wisdom, it takes strength."

The panel included Greg Beason, a 1993 graduate with a bachelor's degree in technology, who works for Honeywell Aerospace; Pat White, a 1988 graduate in political science, who works for State Farm Insurance; Jeff Parker, a 1980 graduate with a Bachelor of Arts in political science and an '81 graduate with a master's in public administration who is now a member of the College of Commerce and Business Administration faculty; Jessi Stevens, a 1988 graduate with a masters of science and a 1991 graduate with a master's in public administration who is a human resource development specialist for the Centers of Disease Control; Dave Upton, a 1979 graduate with a Bachelor of Science and who serves as president of Gazelle Consulting; Keith Nix, who graduated in 1988 with a Bachelor of Arts in political science and is president of Leadership Group; David Hutchinson, a 1975 graduate with a Bachelor of Arts in geography, who now works for the State of Alabama Department of Economic Development; and Kay Savage, who graduated in 1964 with a bachelor's in secondary education and a bachelor's in English.

Advice they offered to job hunters includes:


From Jessi Stevens: Before you need to begin your job search, know what the qualifications are for the job or company you want.
David Hutchinson: Take your first job for the money; take it to learn from it. Take advantage of the opportunities that will develop you.
Dave Upton: The competitive difference isn't classes taken or GPA. Most employers look for someone who gives them the confidence that they can be successful. This candidate communicates effectively and articulately.
Kay Savage: Be and act passionately about what you want to do
Greg Beason: Prospective employers want to hear in an interview, "I can do this job. I want this job."
Pat White: Research a prospective employer. Know who they are and what they do.
Keith Nix: Take the opportunity to participate in internship programs.
Shane McGriff: Develop a personal networking web.
More information from the seminar, or additional information on career placement, can be obtained from JSU's Career Placement Services in Bibb Graves Hall or by calling 782-5482.