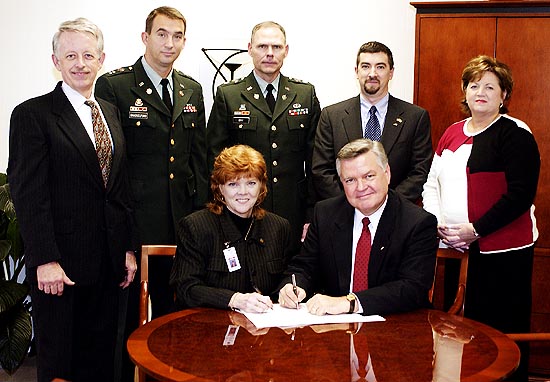 Jacksonville State University President Bill Meehan, seated, right, and Gadsden State Community College President Renee D. Culverhouse sign an agreement enabling JSU to offer the ROTC program to Gadsden State students. Looking on are, from left, James Jolly, GSCC dean of instructional services, Dean Shackleford of JSU ROTC, Lt. Col. Doc May of JSU ROTC, Dr. Joe Delap, associate VP of academic and student affairs at JSU, and Dr. Becky Turner, JSU vice president for academic and student affairs.
Abby Knight
JSU News Bureau

October 30, 2002 -- Jacksonville State University and Gadsden State Community College signed a partnership agreement that allows students at GSCC to take freshman and sophomore level military science classes through the JSU Reserve Officer Training Candidate (ROTC) Program at either the GSCC campus or the JSU campus.

The ROTC courses will be phased in at GSCC, where the campus must have an enrollment of 20 students in first-year military science before classes can be taught at the GSCC campus on Wallace Drive in Gadsden. Once enrollment reaches 20, students can register for the course at Gadsden State and pay GSCC tuition rates. Until that goal is reached, however, GSCC students will attend classes at JSU as transient students and pay at JSU tuition rates.

The ROTC classes are considered GSCC resident courses and will be listed in their course catalogue with the same credit hours as at JSU.

This partnership allows the students at GSCC to have the same opportunity as JSU students to compete for two and three year ROTC scholarships. According to Department of Army policy, all scholarship winners must transfer to a four-year institution.

It also means Gadsden State students will be considered part of the JSU Corps of Cadets and will be eligible to participate in all military functions and extracurricular activities associated with the Gamecock Battalion and JSU's ROTC program.

The partnership goes into effect October 30, 2002 and will be re-evaluated on a yearly basis.

Professor of Military Science at JSU, Lt. Col. Herschel N. May says that he hopes they can begin offering the classes for the Spring Semester 2003.

"The advantage to the ROTC program is that students will arrive at JSU fully qualified to begin the ROTC advanced course," said May.

"The basic course, or the first two years of Military Science, is open to all students, and there is no military obligation associated with the classes. Students who do not have prior military service in the active or reserve forces must complete the basic course in order to qualify for the advanced course, the junior and senior classes," he said.

May also hopes that students who take their ROTC classes at Gadsden State will be more likely to transfer to JSU.