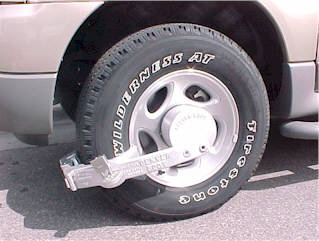 A vehicle boot similar to the one shown will be used by UPD beginning November 1. Boots fit the majority of vehicles on the road.
October 30, 2002 -- Beginning in November, any vehicle on campus that has five or more unpaid parking tickets that are at least 30 days old will get the boot.

The boot is an immobilizing device University Police will use on vehicles to motivate offenders to abide by the rules. All drivers who have accumulated five or more unpaid parking tickets are urged to appeal them or pay up before November 1.

What happens if you find your car locked down? Go to the Bursar's office and pay up; then take your receipt to the University Police Department to make arrangements to have your vehicle freed.

Many universities have a boot policy. JSU's policy was created with considerable input from students and faculty.